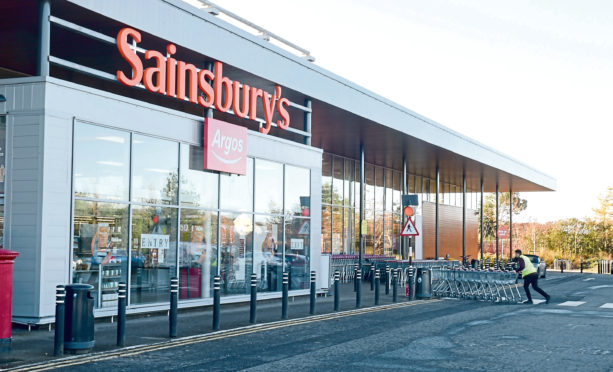 Around 3,500 jobs are to go at retail giant Sainsbury's as it looks to close its meat, fish and delicatessen counters.
In a blow to already beleaguered high streets, the firm is also set to close around 420 of its stand- alone Argos outlets.
The firm has a number of Argos stores across Tayside and Fife, including Dundee, Montrose, Arbroath and Kirkcaldy.
A spokesperson for the firm said plans to open 150 more Argos stores in Sainbury's and add up to 200 more Argos collection points in supermarkets and convenience stores.
The move will see the closure of 420 Argos stores by March 2024, while 120 standalone stores which have not reopened since they were closed at the start of the pandemic, will remain permanently shut, leaving a remainder of around 100 stores.
Chief executive Simon Roberts said: "Argos sales have been strong over the past six months and we have gained almost two million new customers have connected with Argos.
"Over the next three years we will make Argos a simpler, more efficient and more profitable business.
"We are talking to colleagues today about where the changes we are announcing in Argos standalone stores and food counters impact their roles.
"We will work really hard to find alternative roles for as many of these colleagues as possible and expect to be able to offer alternative roles for the majority of impacted colleagues.
"Right here and now, I and all the team are focused on supporting and delivering for our customers in the days and weeks ahead."
Shopworker's trade union Usdaw said it will begin consultation with Sainsbury's over the restructuring.
The news comes as Sainsbury's revealed pre-tax losses of £137 million for the 28 weeks to September 19.
The firm said the loss reflected £438m of one-off costs associated with Argos store closures "and other strategic and market changes."
Sainsbury's said like-for-like sales increased by 6.9% while digital sales leapt by 117% to £5.8 billion.
The group said it is also expected to post underlying pre-tax profits for the current full year that are 5% higher than last year after "stronger-than-expected sales, particularly at Argos".
Despite the job losses, the firm expects to create 6,000 jobs by the end of the financial year and highlighted it had retained 90% of staff where stand alone Argos outlets had moved into Sainsbury's stores.
Sainsbury's said it was refocussing on its core food business and planned to lower prices, grow online grocery sales and increase the rate of new convenience store and neighbourhood hub openings over the next three years.
Sainsbury's said it would pay 7.3p dividend.