Plans for 'taxi service' in space to create dozens of jobs in Fife
Up to 170 jobs will be created following successful space rocket tests conducted in Fife.
Scottish space firm Skyrora is developing an orbital vehicle to run a 'taxi service' in space.
The company, which set up an engine testing facility in Rosyth this summer, has already signed over 23 letters of intent with interested customers who operate satellites.
It plans to have a launch service agreement in place within the next six months which would open up between 150 and 170 job opportunities in Scotland.
Tests conducted in Fife
Skyrora, has conducted a series of static test fires of its low Earth orbit (LEO) engine – including a vacuum chamber test, designed to replicate space-like conditions.
All 100 tests conducted at the company's Engine Test Complex in Fife were successful.
It means this part of the three-stage orbital launcher, Skyrora XL is ready for a launch planned for 2023.
Skyrora's LEO engine is unique as it can re-ignite numerous amounts of times in orbit to deliver payloads into different altitudes and phases, as required for the mission and acting as a 'taxi' service to satellite customers.
Verification
Head of engineering Dr Jack-James Marlow said: "These tests were a fundamental step for our verification programme for the third stage LEO engine, which make us a stage closer to fully developing our polar orbital vehicle, Skyrora XL.
"We designed and manufactured a vacuum tube to allow us to lower ambient pressure conditions to approximately 10% of sea level.
"This is a great technological achievement for Skyrora."
Space debris removal
The engine achieved 1,500 seconds of operation within 20 firing tests under vacuum conditions.
Edinburgh-headquartered Skyrora used a gas-dynamic tube, designed and manufactured in-house, to provide the necessary low-pressure environment, as the engine is to be operated in the upper atmosphere.
The 3.5kN engine has the ability to conveniently and reliably restart in orbit.
It is this element that makes it suitable as an orbital manoeuvring unit or a space tug that could complete tasks such as space debris removal to aiding in a moon mission.
The next step for Skyrora is to develop the 70kN engine, that will be installed on the first and second stage of the commercial-class orbital vehicle, Skyrora XL.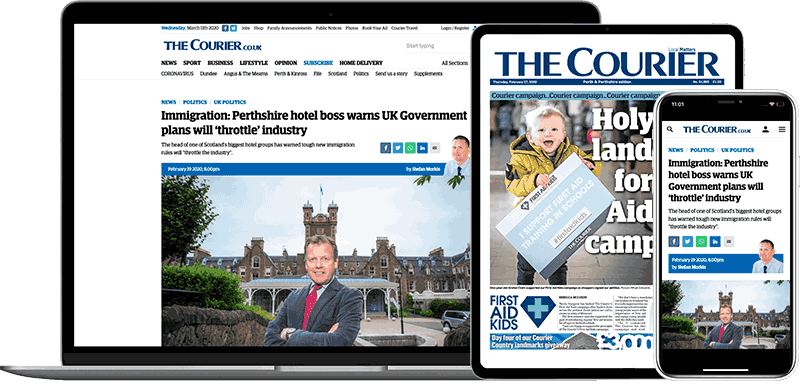 Help support quality local journalism … become a digital subscriber to The Courier
For as little as £5.99 a month you can access all of our content, including Premium articles.
Subscribe