 The green light has been given for the £2.6 billion Beatrice offshore windfarm in the outer Moray Firth.
Perth-based SSE is part of a consortium embarking on the 588 Megawatt 84-turbine development off Caithness in one of Scotland's largest private infrastructure projects.
Producing enough power for 450,000 homes, it is estimated to boost the economy by up to £680 million and provide an average annual gross employment in Scotland of over 890 jobs during construction .
Other likely benefits include investment in Scottish ports and harbours and supply chain opportunities in a contribution to the economy worth an estimated £400 million to £525m during the wind farm's 25 year operational life.
Around £10m of investment is planned at Wick Harbour to house the wind farm's operations and maintenance facilities and improving the existing RNLI facilities.
SSE (40%) is in partnership with Copenhagen Investment Partners (35%) and SDIC Power of China (25%) in the venture for which offshore construction will begin in 2017 with Siemens 7MW turbines generating the power.
Subsea 7, in alliance with Seaway Heavy Lifting, has been awarded a contract worth over $1 billion (£690 million) for the management, design, engineering, fabrication and installation of the jacket, foundations and array cables for the 84 wind turbines.
Work at the operations and maintenance facility in Wick and the transmission works in Moray will commence this year, with offshore construction and installation beginning in 2017 using Seaway's heavy lifting vessels. The development is expected to become operational in 2019.
SSE director of renewables Paul Cooley said: "We are extremely grateful for all of the support received throughout the development of the project.
"The decision reaffirms SSE's commitment to offshore wind and we are proud to progress such a flagship project for the Scottish offshore wind industry and the UK's skilled supply chain."
Christina G. Sorensen, senior partner of Copenhagen Investment Partners (CIP), said their investment represents one of the largest commitments from a financial sponsor to an offshore wind project.
Yang Lin, at SDIC Power stated: "Beatrice is SDIC Power's first exposure to the European offshore wind market, and we fully believe it has a promising future."
Secretary of State for Energy and Climate Change Amber Rudd said: "The UK is the world leader in offshore wind; and this industry, backed by the UK Government and benefiting from our access to the EU single market, is a success story going from strength to strength."
Paul Wheelhouse, Minister for Business, Innovation & Energy in the Scottish Government, said: "Renewables are now Scotland's biggest electricity generator, and nearly half of gross electricity consumption comes from renewables.
WWF Scotland director Lang Banks said: "This single project will almost quadruple our offshore wind capacity, helping to reduce our greenhouse gas emissions as well as creating jobs and supporting local economic renewal."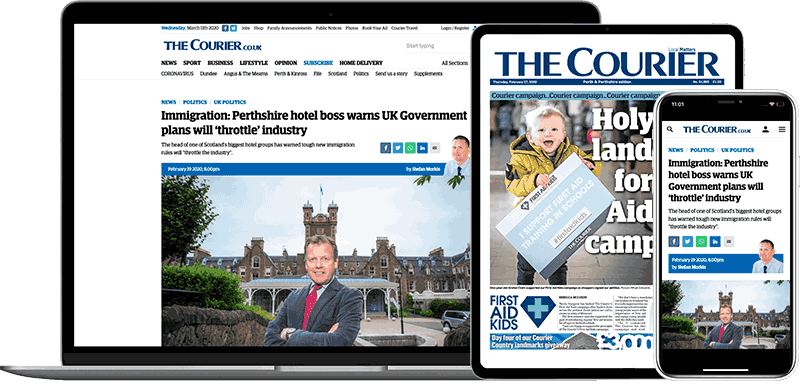 Help support quality local journalism … become a digital subscriber to The Courier
For as little as £5.99 a month you can access all of our content, including Premium articles.
Subscribe