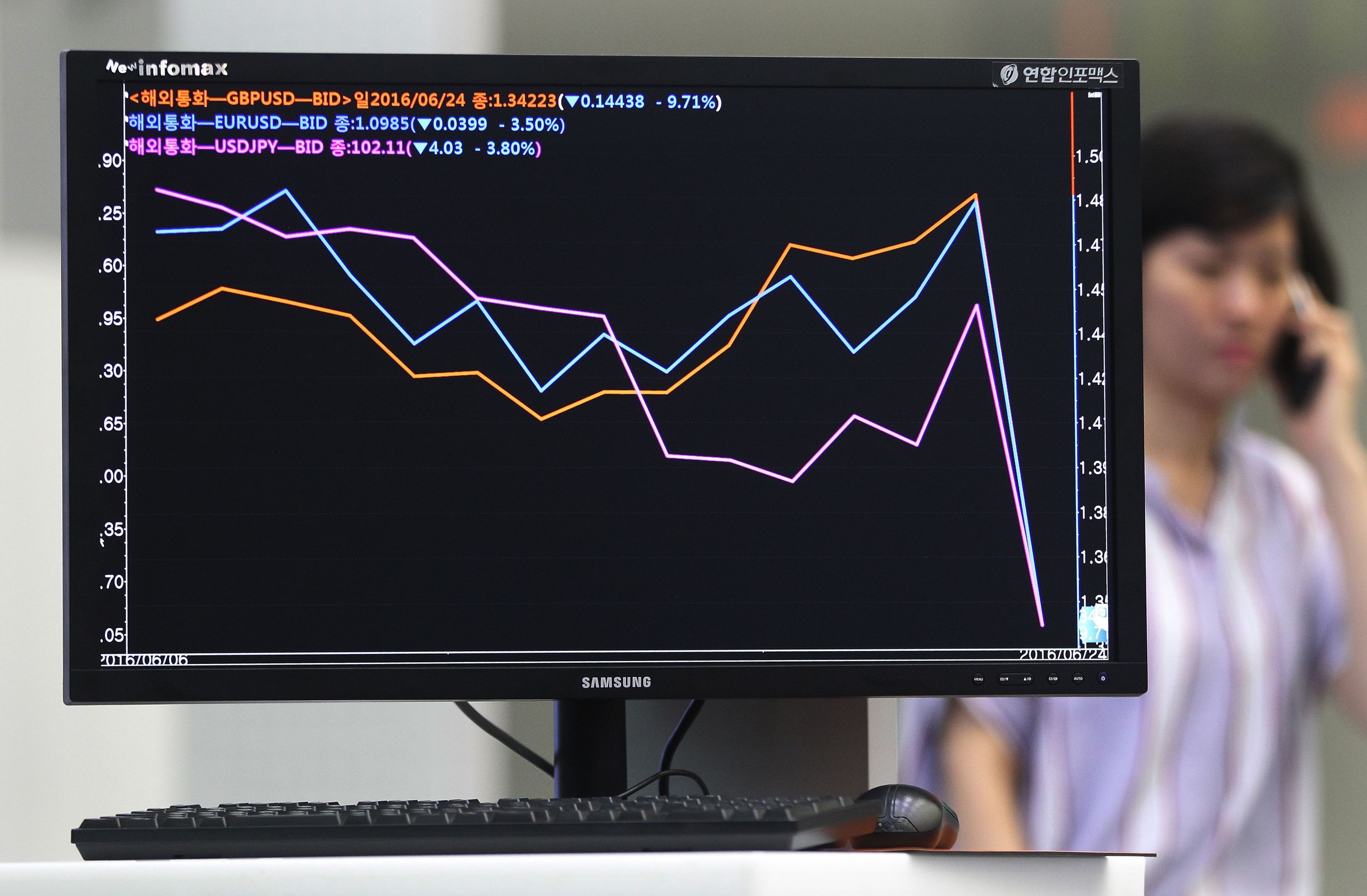 Tens of billions was wiped off the value of the UK stock market as global investors reacted to the  EU Leave vote.
The value of the pound plunged by more than 10% overnight to a more than 30-year low as it became clear that BREXIT had won the day.
The resignation of Prime Minister David Cameron sparked further signs of volatility.
International markets tumbled as the vote result came in and there was turmoil as the London exchange opened.
The FTSE 100 index of leading shares collapsed by almost 500 points before recovering some ground.
The wider FTSE 250 index was down more than 2,000 points as the BREXIT shock wave hit across all sectors.
The banking sector was amongst the hardest hit with Lloyds and RBS – both part-owned by the UK government – taking a 30% hit in the opening exchanges before  the brakes were applied.
Barclays suffered a similar slump and there was also pain for the major housebuilders with Bellway down 21% and  Taylor Wimpey taking a 28% hit.
Energy stocks also fell but the scale of the adjustments were noticeably smaller than that seen elsewhere, with majors BP and Shell showing small single digit falls.
Robert Hannah, chief operating officer at Grant Thornton UK LLP, said: "After initial market volatility, we can expect a period of instability and uncertainty.
"It is important to bear in mind that very little changes immediately, so businesses should stay calm, review their contingency plans and start considering the mid-long term opportunities whilst the dust settles.
"Organisations need to assess the risks to their business and develop strategies which mitigate these, or indeed, capitalise on new opportunities."
Martin Beck, senior economic advisor to the EY ITEM Club said the UK was now headed on a new and uncertain path.
"We are entering unchartered territory as there is no precedent for a member state leaving the EU and so there is little economic evidence to draw on," he said.
"What we can be certain of however is that the response of UK policymakers may matter as much for the economy's future well-being as the new relationship forged with the rest of the EU (REU).
"If the Prime Minister pushes the button on Article 50, we are unlikely to see any immediate changes in terms of the free movement of goods, services, capital and people between the UK and the REU. Article 50 sets out a negotiation period of up to two years.
"The short-term economic impact is more likely to come down to the effect on confidence and expectations.
"Uncertainty over the UK's future trading relationship with the EU could continue to hold back investment in some industries.
"And there is a risk that firms in sectors where an EU domicile is important for business, notably international finance, may choose to move activity out of the UK to guard against the possibility of no deal being agreed.
"Capital inflows from abroad may also slow, triggering a potentially painful adjustment in the UK's current account position, particularly if the vote precipitates a period of political uncertainty."