The great and the good of Courier Country business celebrated into the small hours after attending the most successful Courier Business Awards ever.
More than 700 men and women donned black-ties and ball gowns, coming together at a specially-constructed marquee at the Apex City Quay hotel in celebration of the best of business from across Dundee, Angus, Perth and Fife.
Host Gyles Brandreth entertained guests in his own impassioned style, causing thunderous levels of laughter and applause from attendees.  
He told The Courier he felt like a "born-again Dundonian" after presenting awards at the largest black-tie event in the city's history.
The winners
Apprentice of the Year – Donna Smith, Fife Council

Export Business of the Year – Stoneridge

Deal of the Year – UK Games Fund

Growth Business of the Year – Journeycall

Retail Business of the Year – Davidsons Chemist

Design and Innovation Business of the Year – Nicoll Russell Studios

Social Impact Business of the Year – Links Park Community Trust

Rural Impact Business of the Year – SoilEssentials

Small Business of the Year – Crosbie Matthew Funeral Directors

Tourism, Leisure and Hospitality Business of the Year – Dundee Industrial Heritage

Digital Business of the Year – Tag Games

Manufacturing Business of the Year – GSK Montrose

Family Business of the Year – Graham Pest Control

Service Business of the Year – Caledonia Housing Association

Science & Technology of the Year – CXR Biosciences

Young Business of the Year – Taypark House

Entrepreneur of the Year – Andy Lothian (click here for more)

Outstanding Contribution of the Year – Jack Robertson (click here for more)
Michelin took home the coveted Business of the Year award, and Jack Robertson was given the Outstanding Contribution of the Year prize.
John Reid, Michelin factory manager, said: "What a fantastic surprise. We were really surprised with this recognition.
"Being nominated and being here is great enough, but to win is just fantastic. I think it is the people that put us ahead of the competition.
"The commitment of the guys working together is fantastic. We have had some difficult times but by pulling together we have managed to get through them."
Jack Robertson, from Thorntons, said: "It's been more than a surprise. I did not see it coming, I didn't have a clue.
"I'm feeling quite elated in many ways but shocked.
"I'm used to my family knowing things they don't tell me, so that didn't phase me.
"It's a lovely thing to finish off with, and it is finishing off, because I retire as the chairman in about three weeks time and then I retire as a partner in May."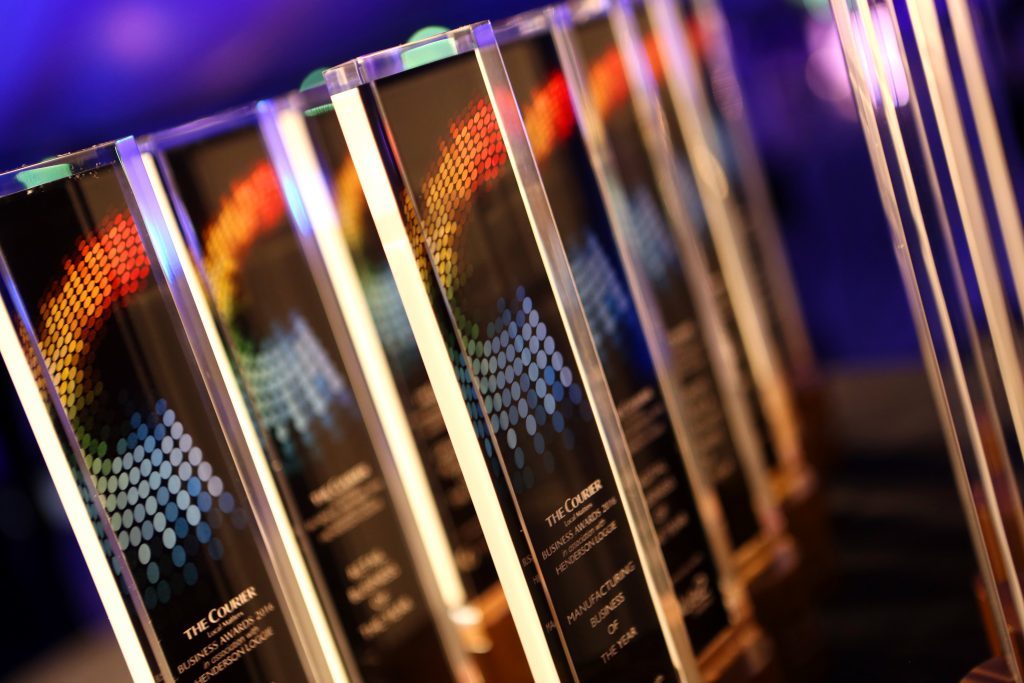 Guests were invited to share their photos on social media, and at one point the #CourierBizAward hashtag was the third highest trend on Twitter in the UK, behind TV shows the X Factor and Strictly Come Dancing.
Andy Lothian was recognised as Entrepreneur of the Year, and said he was "absolutely bowled over" to have been given his award.
David Smith, managing partner of Henderson Loggie, said there was a "beautiful" feeling surrounding this year's ceremony.
He said: "There is a beautiful atmosphere at the Courier Business Awards. The event is really important for businesses all across Courier Country.
"There are a great range of winners from a great number of categories.
"I congratulate all of the businesses who received nominations. To just be nominated for a Courier Business Award shows success in itself."
Winning the Design and Innovation of the Year award, Doug Binnie of Nicoll Russell studios paid tribute his former colleague- the late Andrew Nicoll- who passed away earlier this month.
He said: "It's the first time we have been here. I would like to dedicate our award to Andrew Nicoll, who gives the name Nicoll to Nicoll Russell.
"He died earlier this month and I think this is a fitting tribute to him and his contributions. I would like to remember all he did in setting up the important projects he delivered.
"He has been out of the business for 15 years but any time someone phones they say 'Andrew Nicoll' which just shows his lasting impact on us."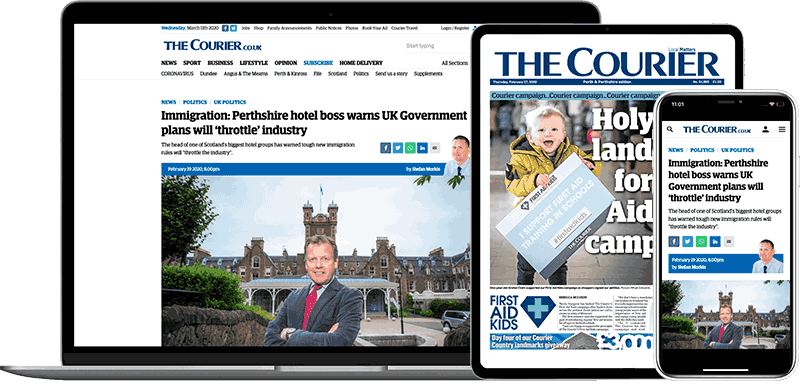 Help support quality local journalism … become a digital subscriber to The Courier
For as little as £5.99 a month you can access all of our content, including Premium articles.
Subscribe