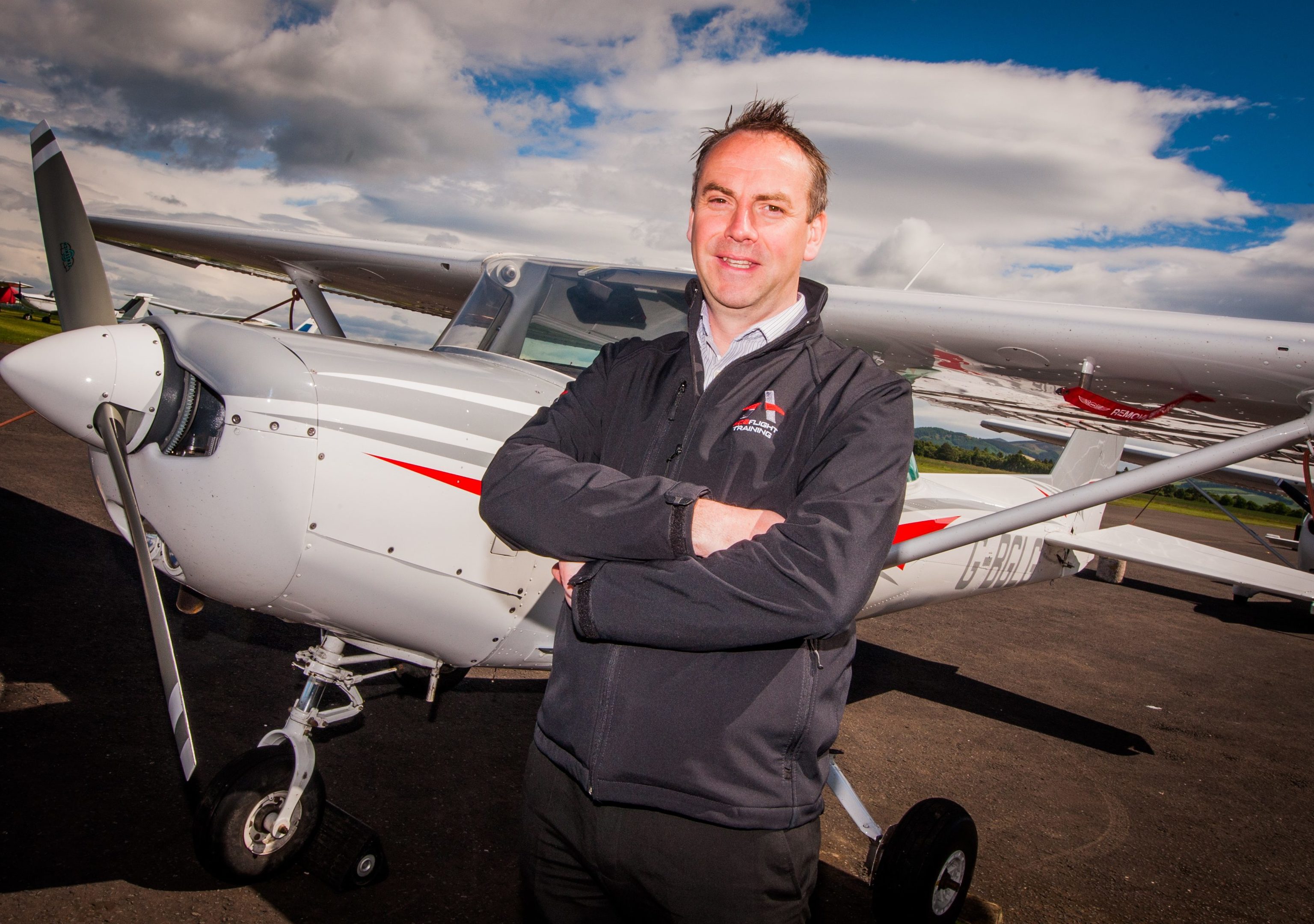 The company which operates Perth Airport is reaching for the skies with a 60% increase in personnel since November and a predicted £500,000 turnover increase to £1.5 million in 2017/18.
In just seven months, ACS Aviation which offers pilot training, engineering and maintenance services for private and commercial operators in Scotland, has grown from 13 permanent members of staff to 20, with the addition of more staff across the board in every department, including flying instructors, airport agents and administrative, engineering and operations.
Three new aircraft have been added to the ACS fleet, due to customer demand, including two Cessna 152 aircraft and a Piper PA28-161 Warrior, with a Diamond DA42 Twinstar expected to be another new addition to the fleet later this year.
ACS Aviation, which offers a range of private and commercial flight training, was purchased by Glasgow Airport-based parent firm Cloud Global in 2016 for an undisclosed sum.
It too is predicting a turnover increase in 2017/18.
ACS Aviation managing director Graeme Frater said: "It has certainly been a very busy time since we took over here as operator at Perth Airport.
"I was appointed managing director at the time of acquisition with the main aim of growth in all areas.
"We are rapidly developing as a real centre of aviation activity and excellence in Scotland, and are delighted that we are well on course to post a significant increase in turnover."
Mr Frater said ACS Aviation and Perth Airport will soon be in the spotlight with BBC Alba currently filming a new series of "Highlands Airports", and the BBC also filming 'Scotland From the Sky' there on July 10.
"The prospect of TV coverage creates a real buzz for the team," he added.
"Publicity like that seen on "Highland Airports", highlighting the varied roles within an airport, and the team environment, is always welcome, and a good way of attracting new blood into the industry.
"Flying has a sense of daring and excitement about it, and following screenings of airport programmes we often see a boost in bookings for the consumer side of the flight training business, offering flight and simulator experience packages which we sell to the public as gifts.
"We also want to highlight that you can obtain a private pilot's licence here, and we want to attract more females into the aviation industry too."
The purchase of an AL42 flight simulator makes ACS one of the leading flying schools in the UK for multi-engine instrument ratings and simulator training, added Mr Frater.
Perth Airport is also home to Scotland's Charity Air Ambulance which has now been operational for four years.
Geographically Scotland's Charity Air Ambulance can reach 90% of Scotland's population within 25 minutes from its base at Perth.
"It's certainly proving to be a very positive time for Perth Airport. What can we say –  the sky's the limit for our business at the moment!" he added.
Cloud Global Group, based in Glasgow, has three subsidiaries, ACS Aviation Ltd, handling all Perth Operations, CG Aviation Ltd – Aircraft Leasing and Cloud Global Ltd – Aircraft Component Support and Recruitment.
The group's client list includes Emirates, Etihad Airways, Apollo Aviation Group and IAS Medical Ltd.
ACS Aviation offers pilot training, engineering and maintenance services for private and commercial operators in Scotland. It is the country's busiest commercial flight training organisation and instrument rating specialist.
Cloud Global specialises in aviation recruitment, aircraft leasing and aviation support.