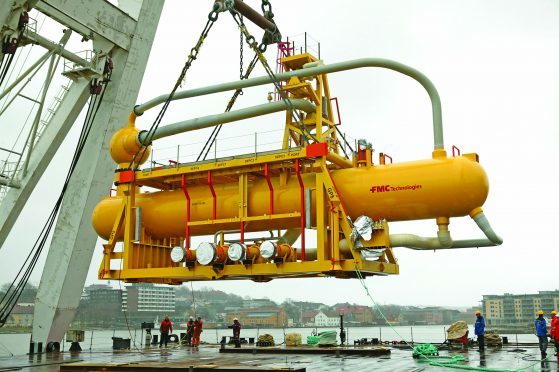 Turnover at a Fife offshore engineering company declined by more than £100 million last year as the oil and gas sector continued to struggle.
Dunfermline-based FMC Technologies Limited blamed the lower oil and gas prices as turnover in the company reduced from £313.7 million in 2015 to £199.3m last year.
FMC Technologies, which manufactures oilfield and wellhead equipment, flow measurement and control equipment, recorded a pre-tax loss of £9.8m.
Managing director Andrew Cort said: "Capital and operating budget reductions by oil and gas companies caused by the lower crude oil and natural gas prices continued to impact 2016 orders which were 35% lower than in 2015 as projects were delayed, postponed or cancelled.
"The significantly reduced activity levels in comparison to 2015 are reflective of the market and are in line with the directors' expectations".
He said the company's loss was due to lower activity and continued investment in research and development and had been offset by favourable exchange rate gains of £12.3m.
The company operates worldwide.
Revenues in the UK dropped from £55.4m in 2015 to £32m last year.
In Europe sales declined by £54.2m to £90.1m. Africa and Asia saw a £30.1m drop to £54.4m while revenue in North America last year was £19.2m compared to £25.3m in 2015.
The company expected its income to continue to be affected by the lower energy prices in the short term.
"Demand for our equipment and services depends on oil and gas industry activity and new investment levels, which are directly affected by trends in the demand for and price of oil and gas," Mr Cort continued.
"Ongoing budget restrictions of the oil and gas companies have driven aggressive pricing strategies in the current market and the group expects future orders and revenues to continue to be adversely impacted, at least in the short term.
"For 2017 and at least the early part of 2018, the market will remain difficult as operators continue to focus on financial discipline.
"However, there is an expectation that project sanctions will increase on the back of a higher, more stable oil price and the reduced cost base that the operators have created by working closely with their supply chain."
A focus of the company has been to continue to drive down costs through R&D to develop low cost alternative products and business reorganisations to "meet the challenges created by current market environment".
Mr Cort added: "These combined strategies will protect our strong customer relationships and ensure that the group emerges from the current market downturn with a solid foundation for future success."
In January this year FMC Technologies combined with Technip SA to create the combined company Technip FMC in an all stock merger.
rmclaren@thecourier.co.uk