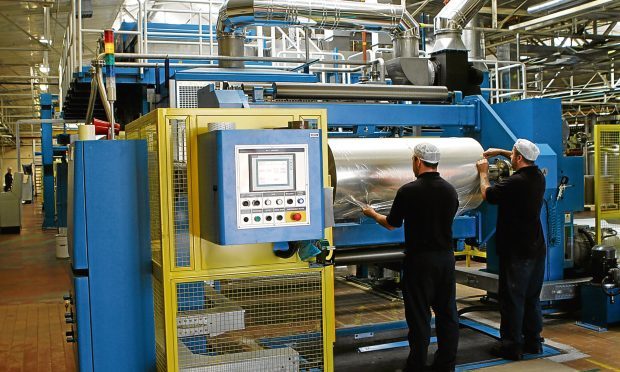 The new owner of Dundee manufacturer Rockwell Solutions is predicting a stronger financial future for the lidded film coatings business.
Wester Gourdie based Rockwell and its 90-strong workforce was acquired by Sappi Europe, a division of South African group Sappi Limited, for an undisclosed sum in July.
The company has now produced its first set of statutory filings under the new structure and they show the group – which produces high-tech barrier films used to enclose microwave meals and other foodstuffs – achieved a strong rise in profits in the year to June 30.
Total group revenues were slightly lower than in 2016 at £10.23 million, but pre-tax profits more than doubled to £1.18m in the year.
In his strategic report to the accounts, director Stephen Blyth – who joined the company following completion of Sappi's summer buyout – said the company was continuing to invest for future growth.
The focus of much of the investment has been on improving throughput on the group's multi-million pound Rockstar film coatings line.
"The 2017 results reflected a continuing improvement in performance," Mr Blyth said.
"Overall, the business has been doing well, achieving a consistent growth in terms of volumes, revenues and profits.
"Further investment decisions have been taken to improve efficiency and reduce the CO2 footprint of the company.
"It has been two years since the commissioning of the Rockstar equipment and continuous devlopment and testing of recipes takes place in our R&D facilities.
"During 2017 it was decided that additional capital expenditure is needed in the year ended June 2018 to further enhance the Rockstar machine and ensure it functions fully at peak performance.
"This project is nearing completion."
Mr Blyth said the greater capacity offered through Sappi group offered up many opportunities for Rockwell.
He added: "We are confident that the projected growth in turnover made possible by the company's key investment in technology, and our vision for the future, will deliver an enhanced financial performance in 2018 and beyond.
"We acknowledge and appreciate the support of our employees, customers and suppliers throughout this period of transformation that will add further strength to the business and provide exciting prospects in the manufacturing sector."
business@thecourier.co.uk