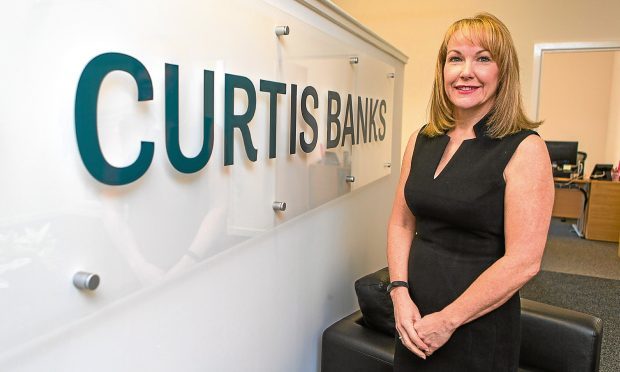 The Dundee branch of pension provider Curtis Banks has moved premises as it looks to expand its workforce.
The company had recently had its Dundee office within the City House office block attached to the Overgate centre, which is set to be demolished.
It has now moved to a bigger office at West Port House at West Marketgait in Dundee which has room to accommodate 80 staff.
"Moving to new, modern offices has given everyone a real lift," Jenny Leith, managing director of Curtis Banks Dundee, said.
"We have 60 staff at the moment but we are actively recruiting and I could see us being at around 70 by the end of the year.
"When I heard about the HBOS redundancies in Dundee in June, I did some presentations to their staff and we've been able to place a dozen of them so far.
"It's a terrible situation for them but hopefully we're able to give some people some employment out of that bad news.
"Over time, it's our intention to build the staff to 80."
Curtis Banks specialises in self-invested personal pensions (SIPP) which allows people to make their own investment decisions from a range of investments approved by HM Revenues and Customs.
Formed nine years ago with a headquarters in Bristol, Curtis Banks is now the UK's largest independent provider of SIPPs, which have grown in popularity.
The Dundee office was formed after Curtis Banks acquired Alliance Trust's £3bn SIPP book.
The firm now has 75,000 customers with a combined pension value of £23 billion.
Ms Leith added: "We are finding that in some businesses they are giving their employees SIPPs purely because it allows them to make an investment choice.
"More sophisticated investors who instruct themselves or who have a financial advisor may decide to make more unorthodox investment decisions to heighten their returns.
"There is far more flexibility in a SIPP pension."
One of the possible investments through a SIPP is in commercial property, which has been appealing to a number of SMEs.
"Business owners may well hold their office in their SIPP and then they pay rent to the SIPP, which has serious tax advantages," Ms Leith added.
Curtis Banks owns 6,000 commercial properties on behalf of its pension savers, which makes it one of Europe's largest landlords.