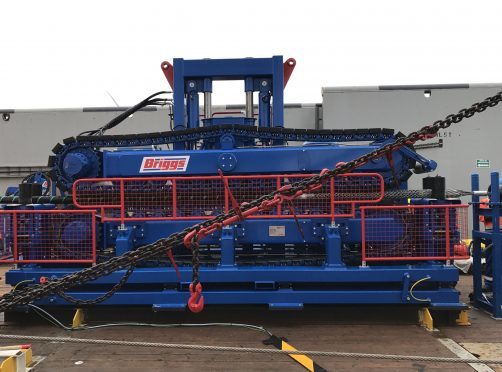 A Fife company has secured a place on a framework agreement to replace and maintain subsea cables for Scottish and Southern Electricity Networks.
Burntisland-based Briggs Marine will support over 100 submarine electricity cables which provide power to islands and rural communities, from Shetland to the Isle of Wight, for the next six years.
By securing a place on the framework Briggs will provide survey, inspection, repair, removal and installation services.
Craig English, director of subsea services at Briggs Marine, said the workforce would be expanded as a result of the agreement, which complements frameworks held with other cable owners.
He said: "We are delighted to be awarded a place on this framework agreement with SSEN, which continues a long and successful history of working together.
"The previous maintenance framework has been held by Briggs for more than 10 years, so it is hugely encouraging that we have been selected to provide services once again."
Mr English noted that during the period of this framework, SSEN plans to replace more than 20% of its network.
"This is a major investment, and so our team is focused on preparations for the busy, challenging workload ahead," he added.
"We were also pleased to see a framework of this significance awarded to a home-grown company.
"Briggs strives to create local employment opportunities and support the Scottish economy, whilst providing a service offering recognised at an international level.
"This work represents a significant boost to the local supply chain."
Briggs has already invested more than £1 million on new equipment this year to bolster its subsea operations capability including new cable storage tanks and cable tensioner units.
The company, which has been operating since the early 1970s, has more than 40 vessels in its work fleet and offers a number of services across sectors from oil and gas to marine survey work and tug boat operations as well as cable maintenance.
Accounts published in January show the overarching group, Briggs
Commercial Limited, produced 
revenues of £65.6m in the year to March 31 2016, up from the £61.7m of the year previous. Pre-tax profits were £4.31m.