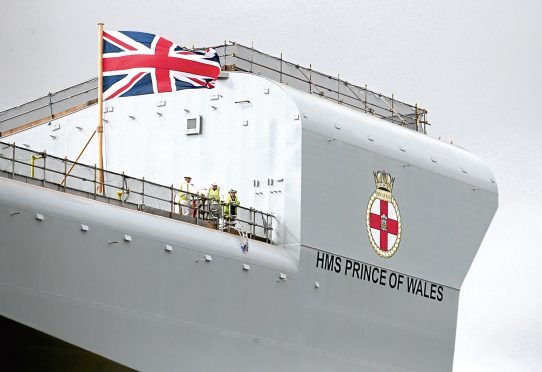 Engineering services company Babcock reported a rise in revenue and profits for the first half of the year.
Chief executive Archie Bethel hailed "good progress" in the six months to September 30 as he announced revenues up 6.6% to £2.31 billion.
Pre-tax profits rose by 11.3% from £163.5 million to £181.9m.
However, there was a 2% decrease in revenues in the marine sector of the company as a result of reduced work on the Queen Elizabeth class aircraft carriers, which have been built at the company's Rosyth base.
The first carrier, HMS Queen Elizabeth, left Rosyth in June to embark on sea trials and is operating from her base port of Portsmouth, from which sea trials will continue to the end of the year.
The second carrier, named HMS Prince of Wales at the Rosyth facility in September, is structurally complete and undergoing outfitting.
The firm said: "The volume of activity on the prestigious QEC programme will continue to step down as we work to complete the second carrier, with an expected reduction in revenue of £140m for the full financial year 2017/18 and a further £80m in financial year 2018/19.
"Our submarine dismantling project facilities at No 2 dock in Rosyth have now been successfully installed and we have begun the physical works to remove low-level waste from the reactor compartment of HMS Swiftsure."
The Rosyth base is also manufacturing 22 assemblies awarded by General Dynamics Electric Boat as part of the second phase of the common missile compartment project for the joint UK Dreadnought and US Columbia Class submarine programmes.
Chief executive Archie Bethel said: "We increased revenue, profit and earnings with underlying organic revenue growth at constant exchange rates of 5% and are maintaining our track record of increasing returns to shareholders by again raising our interim dividend.
"We completed our sector realignment, successfully establishing the springboard for our next phase of development.
"Our competitive strength is reflected in our double-digit margin, our continued strong win rates and the increase in our combined order book and pipeline to £31bn.
"The increasing number and value of our opportunities both in the UK and internationally, where we continue to gain traction, highlights Babcock's long-proven ability to grow despite uncertain market conditions."
Mr Bethel added that 92% of revenue is in place next year and the company expected a slight improvement in its margin in the second half of the year.
The chief executive said he expected the firm's full-year results to meet expectations.
He said: "Our focus on technology-intensive critical services where barriers to entry are high has consistently enabled us to generate sustainable growth regardless of any decline in spending on original equipment."
business@thecourier.co.uk