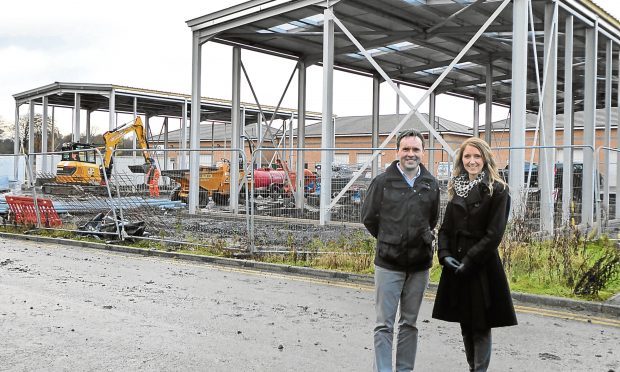 A Fife construction group is building its own new headquarters.
Work began on Raeburn Construction's new two-storey home at Dunnikier Business Park last month and its 11-strong office staff expect to be at their desks by Easter.
In addition, the £440,000 investment will see four industrial units created for private let.
Founders Scott and Sarah Raeburn said their company had outgrown its existing premises.
The firm is tracking towards achieving revenues of £6 million in the current year and is continuing to expand, with plans to take on four new apprentices.
"It's always been our goal to build our own office space – we actually began to look for the right location four years ago – but it became a priority last year when we realised we'd outgrown our current location," Mrs Raeburn said,
"By buying the land it lets us build to our own specification and meet future needs."
Scott said he was delighted to see the apprenticeship scheme expanding.
He said: "The scheme is a great way to enter the industry and get the skills and qualifications needed for a successful career
"We'd be delighted to hear from young people interested in working in our industry who'd be able to start training in early 2018."
Business Gateway Fife's Stephen Mitchell said it was a pleasure to provide support to a growing business.
He said: "Over the years they have used our advice as the business has grown, most recently tapping into support that will help them identify the best IT system and increase their digital skills as they look to improve their online presence."