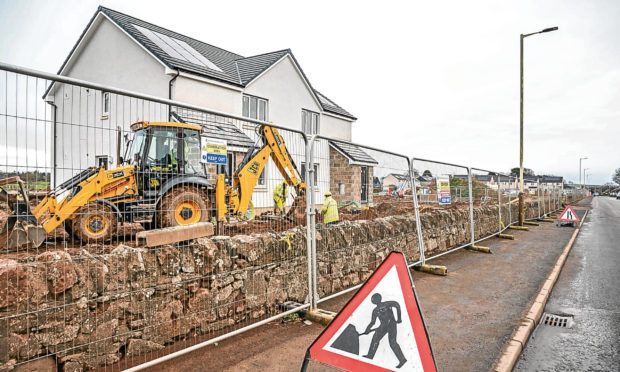 Angus based civil engineer, housebuilder and waste recycling group DJ Laing has seen profits improve after taking a strategic decision to focus on higher margin work.
The Carnoustie headquartered group said the financial crash of 2008 had severely impacted the construction sector in the UK and led to a flood of new, cheaper and lower quality entrants to the market.
To remain busy, the company found itself pitching for work at lower margins and ultimately took on a number of contracts that led to losses and contributed towards the firm's move into the red in 2014 and 2015.
Newly published accounts show the group generated sales of £8.3 million in the year to May 31, 2017, down from £10.65m in the prior 12 months period.
Pre-tax profits including income from discontinued operations came in at £1.23m for the year, up from £147,458 in 2016.
The 2017 figure includes a sale receipt on disposal of its wood processing site at Petterden for £606,037, while 2016 includes a £235,870 credit for the sale of its waste processing facility at Gourdie.
Without that exceptional income, the group produced an £88, 000 loss in 2016 but moved back into the black with a £627,517 pre-tax profit in the last financial year.
In his strategic report to the accounts, chairman David Laing said the board had recognised the road they had gone down was not sustainable and a switch in focus was required to secure the group's long-term future.
"Our profits have improved greatly this year, driven primarily by a number of key strategic changes made across the group's operational activities over the last two years," Mr Laing said.
"Our board of directors had recognised that our previous business operations were not a sustainable long term business model."
The board decided to concentrate efforts on housebuilding and civil engineering projects in the local area.
The business units respectively accounted for sales of £2.68m and £3.52m in 2017, down from £2.87 and £4.85m in the prior 12 months.
"A decision was made at the expense of turnover, to concentrate on our core strength areas – house building and civil engineering – in Tayside and Fife rather than taking on work which had lower margins further afield," Mr Laing said.
"We are committed to improving the efficiency of our operations that will ensure the long term future of the group and provide stability for our trusted workforce.
"The support and commitment demonstrated by the DJ Laing team to provide a quality product and the best possible service to our clients has ensured that our business has remained resilient and competitive within our industry sectors.
"It is this dedication that will drive our business forward to greater success."
The company carried an average monthly workforce of 98 last year, down from 107 in the prior 12 months.
ghuband@thecourier.co.uk