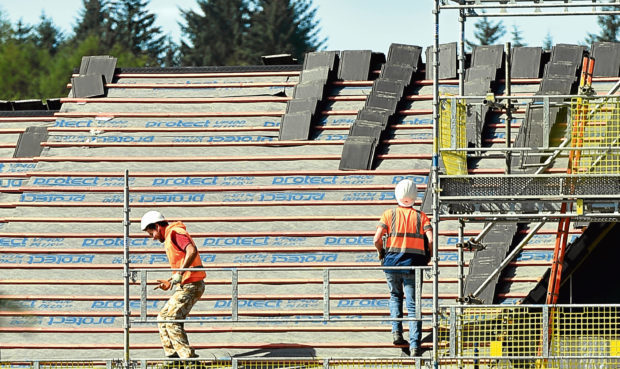 Major Scottish housebuilder Stewart Milne Group has posted a multi-million pound loss for a second successive year.
New accounts at Companies House show the north east based group – which is currently developing out the Monarch's Rise site at Arbroath among 24 ongoing developments across Scotland and north west England – posted a £13.7 million loss before tax for the year to June 30.
The result followed a £26m loss in 2016, and means the company has accumlated pre-tax losses of almost £40m over the past two years.
The group was last in the black in 2015 when its operations returned a £4.9m pre-tax profit.
The negative outcome for 2017 came despite a significant upturn in revenue from £209.2m in 2016 to £240.6m.
In his strategic report to the accounts, finance direct Stuart MacGregor noted operating profits before exceptional items increased to £7m in the year, an improvement on 2016's £600,000 return.
However, one-off costs hit the bottom line with a total of £6.14m of exceptional items declared in the year.
The figure comprised £1.97m of bad debt expenses, £2.1m of losses from the construction business and a further £2.67m of exceptional costs from professional fees.
The accrued figure was partially offset by a £598,000 exceptional gain on the disposal and leaseback of certain land and buildings.
The accounts show the firm – which employs almost 800 staff – restructured its operations during the year with Stewart Milne Group Holdings established as a new holding company.
In addition, the group transferred its timber construction systems business into a new entity and its north west England and central Scotland operations both now sit within their own vehicles.
The group – which has negotiated a new three-year £175m banking facility with Bank of Scotland – said the changes had no impact on its consolidated financial results.
Mr MacGregor said: "The year ended June 2017 showed a return to growth for the Stewart Milne Group with a particularly strong performance across our homes businesses in central Scotland and north west England as a result of the group's decision to increase land investment in these areas in the previous year.
"Similarly our timber systems business also further continued its growth in turnover, which is a direct result of the strong commercial relationships which have been established with housebuilding customers across the UK.
"These factors have allowed the group to generate an increased operating profit in the year, underpinned by a renewed funding package which will support the future growth of the business."
Glenn Allison, chief executive of Stewart Milne Group added: "The strong trading performance reflects the success of our strategy to broaden our portfolio and footprint by investing in parts of the country where the demand for homes continues to rise."