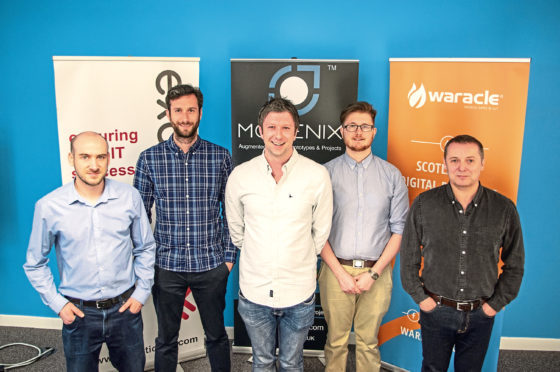 Major Dundee tech firm Waracle has bought a stake in an augmented reality start-up as it continues its strategy of investing in emerging technologies.
Waracle and its owner, the Exception Group, have both invested in Mozenix, which was established in Dundee last summer and has moved its operation from the Vision Building to within Waracle's Bash Street offices.
It is a return home for Mozenix co-founder Michael Romilly, who was also part of the group that established Waracle a decade ago, but left last year to start his new firm with Michael Brown.
He said: "Our job is to enable businesses to navigate the emerging technologies landscape and to enable the extension of existing desktop and mobile apps into the rapidly growing and highly lucrative world of AR.
"Dundee is still pushing out amazingly innovative tech start-ups and the support from successful businesses provides insight, experience and connections that are often overlooked when you are busy starting out.
"We've already begun working with the Waracle and Exception teams. Their experience is helping us drive results."
Mozenix is working on augmented reality (AR) projects which allow digital information and 3D objects to be overlaid on top of the real-world environment on smartphones and tablets.
One of its projects, with Aberdeen-based software firm Return To Scene, allows workers to use a tablet to bring up identification tags and vital information about oil and gas assets.
The investment deal, for an undisclosed amount, was for a "significant minority" stake in Mozenix, which will continue to operate independently.
It expects to double its current staff of three by the end of the year.
Martin Burke, who is director and chairman of both Exception and Waracle, will become the Mozenix chairman and a director of the company.
He said: "We are excited to be working with Mozenix to help deliver mobile AR apps via our existing customer channels.
"We're already seeing significant demand for mobile AR applications from existing customers across multiple industry sectors."
Meanwhile fast growing Waracle, which employs more than 100 staff over its four offices, is targeting £10 million in sales this year after "doubling down" on mobile apps for blue chip clients which include NHS Scotland, ScotRail and Clydesdale Bank.
David Romilly, brother of Michael, who is Waracle's business development director, said: "At the moment some of our customers might have a chat with Michael about AR. They might not want to do anything at the moment.
"But what we'd expect is for them to come around in the fullness of time and know we have that capability when they are ready to start investing."
Waracle and Exception has a strategy of investing in emerging technologies.
The companies invested in blockchain start-up Wallet Services last year.
business@thecourier.co.uk