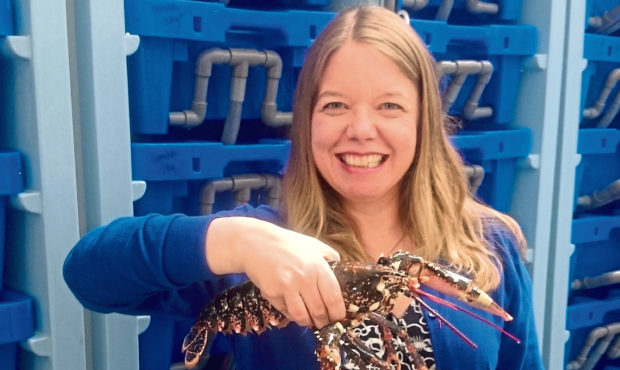 A Fife company which has a unique system to transport shellfish is looking to add to its workforce as it targets sales of £1 million by 2020.
The Lobster Pod, developed by Dalgety Bay-based Todd Fish Tech, creates optimum conditions for holding shellfish.
A filtration system used with the storage boxes means less space and water is required, bringing down transportation costs and increasing the time the shellfish can be stored.
The firm claims the survival rates with the system is 99% compared to the industry average of 85%. It can store lobsters for up to six months.
The company, which has three 1,100 sq ft units within Hillend Industrial Park, is now looking to increase its level of activity in North America and the Far East and also intends to explore diversifying the product.
"It was originally the plan that Europe would be our next market as our nearest neighbours, but the challenge of Brexit means that's a bit more uncertain," chief executive Errin Todd said.
"We have had a lot of interest from the Far East and North America in the product, so we are looking at these markets for the next stage of the business.
"We are also looking at whether the product can be altered so that it could hold other perishable products such as food or medicines or whether the filtration system can be used for another purpose."
The company has three staff, with Errin's husband Keith acting as research and development director.
It is currently recruiting and plans to increase its staff to six by the end of the year.
The firm won a £100,000 business grant from Scottish Edge in December 2014 to grow the company.
The closure of Production Glassfibre's Glenrothes factory in 2016 led Todd Fish Tech to bring its manufacturing process in-house.
At that point the product changed from being made form fibreglass to polypropylene.
"We struggled to find another local manufacturer and so decided to bring it in-house and use plastics," Errin added.
"It was a huge learning curve learning how to meld and create moulds.
"The product still looks the same with the same insulation values but manufacturing in house it means it can be done at no extra cost, quickly and easily."
Errin said bringing the manufacturing process in-house coincided with a blip in sales when some EU funding was put on hold in the aftermath of the Brexit vote.
"We had a brilliant year last year and last month was the highest we've ever had in terms of the value of orders," she added.
"We are targeting turnover of half a million pounds this year and are hoping to reach a million by 2020 by expanding our team and product range."
The company is also looking at extending its lobster hatcheries to increase the supply of the species.