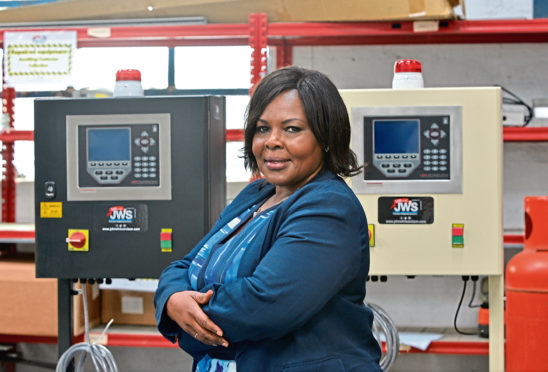 Control of Fife weighing firm John White and Son has passed outwith the White family for the first time in more than 300 years.
Managing director Joyce Onuonga is developing her plans for the business after securing a 90% stake in the Auchtermuchty firm, which is one of Scotland's oldest companies.
The eighth generation of the Whites to run the business, Edwin, has a 10% stake in the new holding company.
The firm, which was established in 1715, creates a wide range of weighing products to cater for everything from medical research to weighbridges.
With a desire to see the company remain in Fife, Edwin and his wife Tio approached Joyce to discuss if she would take over the company.
Joyce said: "Edwin had come to the point where he wanted to retire and he didn't want to sell the business to a company who would just swallow it up and perhaps move it down south.
"They felt that it would be better if I took over the business and I thought it would be an honour and a great challenge."
Joyce was a successful businesswoman in Kenya where she exported handmade crafts made by 150 women, when she followed her husband to Scotland who was doing a PhD at St Andrews University.
She initially joined John White & Son on an advisory basis but then spearheaded a restructuring programme in the mid-1990s.
Workers were upskilled so the firm could move from being a wholesaler to offering a full 10-year service package to maintain and calibrate the machines, which is a legal requirement.
In recent years she took over the role of managing director from Edwin, who said he saw Joyce as the natural person to take the company forward.
He said: "The ninth generation of Whites have their own lives.
"The most important thing for me was the future of the business — for all the people who work for it and the customers who depend on it.
"Joyce taking over ensures it remains as an independent Scottish company and carries on the traditions of the past 300 years into the next 300 years.
"Joyce is the natural successor to take the business forward with new ideas and new energy.
"We've retained a small interest in the transition period and I will help Joyce where I can so there's a continuity."
John White & Son currently employs 14 people – including Joyce's sons Brian and Bethan.
Among Joyce's plans for the future is developing the firm's software offering and its own products.
She added: "Technology has moved the industry forward. Customers need more data analysis so software is important and that's an area we are doing quite well in.
"We create bespoke software to give firms the unique solution they need.
"We are now moving into that area of product development which is something the company has not done for many years. I think that will add a lot of value.
"My ambitious is to develop the new product to generate more employment for Fife.
"I want to take the legacy and history of John White & Son and grow the business to make sure it is still going for the next 300 years."