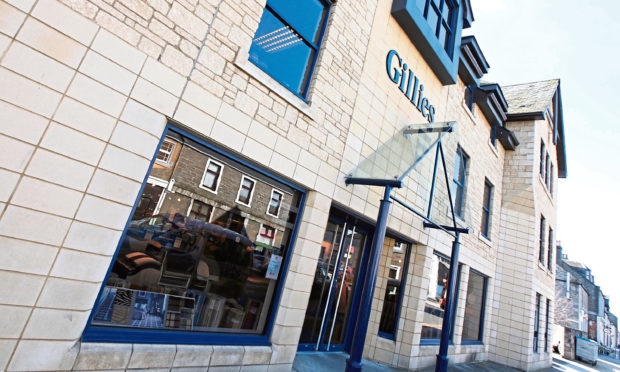 Broughty Ferry furniture store Gillies added £700,000 of sales last year as it acquired an Inverness business.
New figures released by the company, show its turnover rose from £16.9 million to £17.6m for the year ending August 31. Pre-tax profits dropped from £1.67m to £1.25m.
The family owned company – which has shops in Aberdeen, Montrose and Perth as well as its flagship unit in Broughty Ferry – expanded its geographical reach with the acquisition of Ogilvies of Inverness at the end of 2016.
The new shop traded for a short period of time before being closed and a "significant" investment made to refurbish the store and relaunch it under the Gillies brand.
Managing director Ian Philp said: "The company continued to invest in its stores during the year with regular updates and refurbishments keeping the stores attractive and the product range fresh."
Gillies' net assets stood at £18.3m at the financial year end, which the company said provided a "strong financial base to support its trading activities".
Mr Philp claimed Brexit had impacted consumer confidence and spending and that he expected trading condition to continue to be challenging this year.
He said: "The Brexit vote and the general election created uncertainty in the marketplace in terms of consumer confidence.
"The Brexit vote in particular also contributed to pressure on the purchasing side from suppliers seeking to raise prices.
"Political uncertainties abound and continue to impact upon consumer confidence, but the directors are confident that the business offering to its customers remains relevant and of a high standard.
"In the current financial year the company has continued its policy of investing in its stores, keeping them up to date so that Gillies continues to provide its customers with the great shopping experience and first class level of service that they expect from the company."
Staffing levels at Gillies increased from 173 to 180 last year.
Gillies was founded in 1895 and moved to Broughty Ferry in 1906 as cabinetmakers, upholsterers and removal contractors. It opened on its current site as house furnishers in 1939.