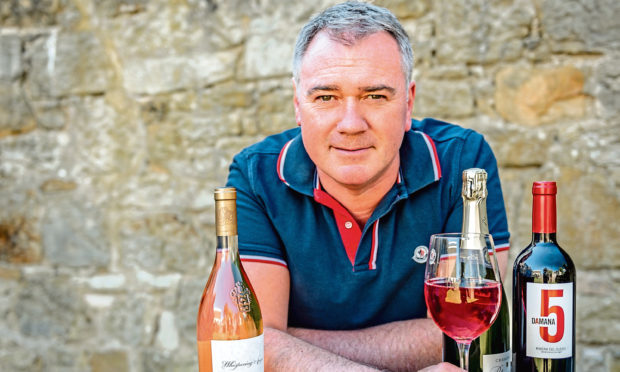 An award-winning sommelier while working at Gleneagles, David Austin, from Dunfermline, started Drink School Scotland in 2016.
What does your business do?
Drink School Scotland offers a range of wine and spirit tastings for private groups – everything from Prosecco tastings, gin tasting, craft beer masterclasses and wine tastings all tailored personally.
I also carry out professional wine and spirit courses for the hospitality trade.
How and why did you start in business?
I have been self-employed for a number of years and took the leap of faith when I first opened Reuben's Cafe and Winestore in Dunfermline.
I followed the success of that with a bar called the Bruery where I also set up a brewery and created a brand of beer called de Brus.
I sold Reuben's two years ago and decided to take a break and pursue other interests before I returned with Drink School.
Who has helped you along the way?
I was fortunate to spend my formative years in the hospitality industry at Gleneagles. I wasn't clever enough to go to university, but I refer to the 10 years I spent there as my own uni.
The guidance and discipline I received from my mentor there gave me the knowledge, skills and confidence that are worth more than any degree could provide.
I've also had great support from Business Gateway Fife.
They helped me apply for a £1k start-up grant two years ago which allowed me to build my website and get the business off the ground.
I've also benefited from its DigitalBoost programme. My adviser, Brian Blackburn, has been a great help over the years and is always supportive.
What was your biggest mistake?
Jumping into things without fully thinking them through. I used to think everyone I dealt with were morally like me.
What is your greatest achievement to date?
Winning UK Sommelier of the Year twice and being the first person at Gleneagles to achieve the WSET Diploma.
I also receiving the Dom Perignon award for Excellence.
The achievements all involve wine!
What do you hope to achieve in the future?
To make some money!
What is the hardest thing about running your own business?
Being accountable for all the things you used to blame on someone else.
Any advice to wannabe entrepreneurs?
I waited until I was 40 to start my first business, largely because I thought I wasn't ready or wasn't able to do it before then.
The truth is I should have done it 10 years earlier.
Once the seed is sewn just follow your instincts and trust your own judgement.
Learn from your mistakes and don't make them again.
How would your friends describe you?
I think I amuse them by always doing something new workwise every time they see me.