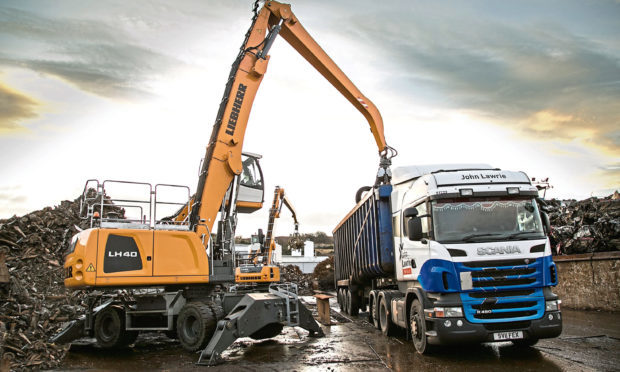 Turnover at metal recycling and decommissioning firm John Lawrie Group soared by 50% last year as the company underwent a management buy-out.
The Aberdeen-based firm, which has a large operation in Montrose, saw its sales rise to £83 million for the year ending December 31. The operating profit more than doubled to £12m.
The 15-acre Montrose site at Forties Road Industrial Estate underwent a £600,000 investment programme in 2016 to enhance its capabilities in processing redundant steel tubulars from the oil and gas industry and repurposing them to meet the needs of the construction piling market.
Group financial director Charlie Parker said: "During 2017 we witnessed an excellent performance across the whole group.
"We have been able to focus on our core business and develop an exciting, fully funded growth strategy in partnership with our new investors.
"Our Montrose site is an important and expanding part of our business, primarily handling and facilitating the reuse of redundant steel tubulars, as well as managing scrap metal recycling operations.
"Utilising redundant steel tubulars in foundation piling is growing in popularity due to the added strength that steel has over traditional concrete piles and we are seeing this through the increased volume of product we are being asked for."
John Lawrie employs 19 staff directly in Montrose and has 35,000 tonnes of materials a year going through Montrose Port.
In December the firm's metal recycling division expanded into Shetland with the acquisition of the Rova Head metal recycling facility in Lerwick. This facility reopened in February 2018 after undergoing a major infrastructure upgrade.
The metal recycling division recorded its highest ever annual tonnage of scrap metal throughput last year, exporting over 10,000 tonnes per month to European steel mills.
John Lawrie also has a foothold in North America where it is a key supplier of steel tubulars from its base in Houston, Texas.
The firm was founded in the 1930s in Aberdeen as a scrap metal merchant.
In November the company's ownership changed hands following the completion of a private equity backed management buy-out.
Four members of the John Lawrie Group's management team bought the company from the Meldrum family with the support of Rubicon Partners and Grovepoint.
rmclaren@thecourier.co.uk