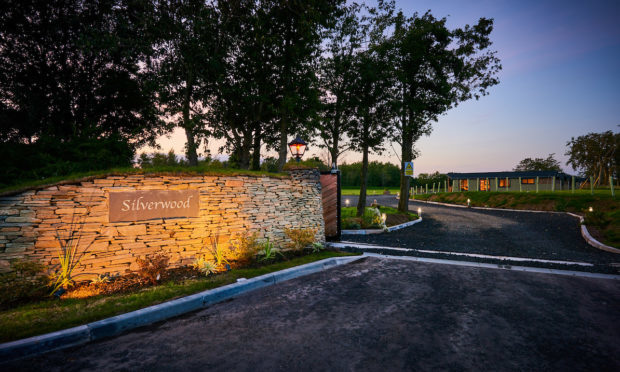 A lack of wedding accommodation in the Carse of Gowrie has inspired an Errol couple to create a luxury self-catering resort.
Rod and Adelle Sim have planning permission to erect 19 lodges and a bistro at the 20-acre Silverwood development, outside Errol.
Currently seven lodges are on-site with a further six due to arrive later this month. The bistro will follow in the first quarter of next year.
Mr Sim said: "It's taken four years to get to this stage — for the groundworks to get the site ready and to get the lodges built. They are built off-site and brought here in two parts.
"When I bought the land, our initial thought was to create a glamping site with outdoor activities.
"It wasn't until Adelle and I married at Errol Park that we realised we had 200 guests and no accommodation. We went back to planning for lodges instead of glamping.
"We've had brides phoning up and booking all 13 for their weddings.
"It's been high demand because we've got four of the big wedding venues within five miles — Errol Park, The Byre at Inchyra, Guardswell Farm and Fingask Castle.
"We've gone for the luxury end of the market so it feels like a home from home.
"Wedding guests want accommodation to match the venue so we've gone for the higher grade."
The venture has been supported with £1.5 million of bank loans.
To fund the next stage of the development, the couple are selling some of the lodges as a managed financial investment, with prices ranging from £115,000 and £245,000.
Mr Sim, who also owns Auchterhouse-based tank driving business Tank Driving Scotland, added: "Lodges are the new buy to lets. You don't have any of the stamp duty, estate agent fees or second home tax.
"It would be a fully managed investment.
"With the V&A opening in Dundee, the tourism market in this area is booming."
The couple are also considering investing in a marquee to be able to hold their own weddings.