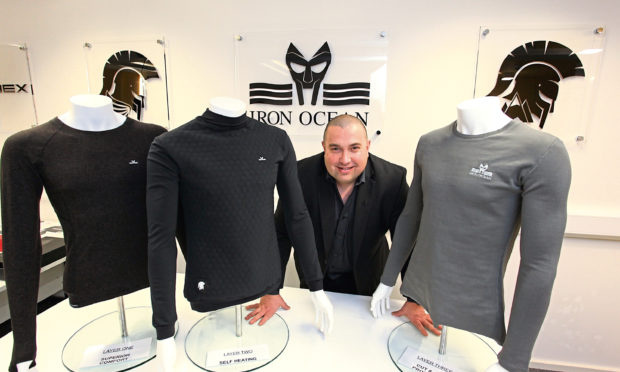 A Dundee start-up has developed a self-heating offshore survival garment with the aim of saving the lives in the event of an accident at sea.
Iron Ocean has worked with the Oil & Gas Innovation Centre (OGIC) in Aberdeen and Heriot-Watt University to develop the Centurion 3, an upper body top that produces heat when immersed in cold water.
The garment's three-layers are tear resistant, fire retardant and compression fit. It is designed to be worn under a traditional survival suit.
Current clothing worn under survival suits do not provide active heating. That means immersion into cold waters causes body temperature to rapidly decrease with an estimated life expectancy of between 10 and 12 minutes.
The newly developed material incorporated into Centurion 3 immediately activates when in contact with water and produces a heat output above the average body temperature for more than 20 minutes.
Simon Lamont, founder of Iron Ocean and former industry health and safety manager, said: "I came up with the initial concept following the 2009 Super Puma crash.
"I realised something had to be done to protect workers from the harsh elements of the North Sea in the event of an offshore incident.
"OGIC's support at the very beginning of this journey was invaluable, having their backing opened the door for me to work with the expertise of Heriot-Watt University and provided the technical expertise to make my idea a reality."
With the prototype complete, Iron Ocean will begin marketing the product to a variety of sectors including leisure, military and maritime.
Teams from Heriot-Watt University developed innovative smart materials for incorporation into Centurion 3.
Two phases of research were co-funded by OGIC. Phase one saw the development of the water-triggered heat-generating materials, which led to phase two, within which the heat-storage material was further developed for use within the prototype Centurion 3 garments.
Mhairi Begg, OGIC project manager, added: "From the start we saw the potential this project had for improving safety offshore and what a disruptive technology it will be when brought to market.
"Often when people think about innovations in oil and gas the focus is on engineering technology, however, this project shows just how much potential there is for innovations to take place across the whole industry."
rmclaren@thecourier.co.uk