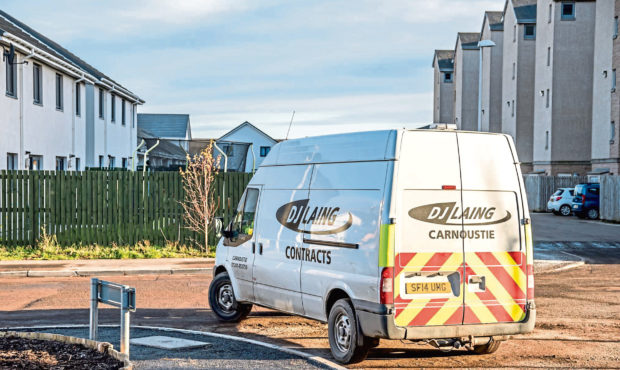 Angus firm DJ Laing's decision to focus on higher margin housebuilding work has resulted in growing profits.
The Carnoustie-based group, which also has interests in civil engineering and waste recycling, recorded sales of £9.7 million for the year ending May 31 2018, an increase of £1.4m from 2017.
Last year its pre-tax profits from continuing operations rose to £843,000 from £628,000 in 2017.
In recent years DJ Laing has made significant disposals in the waste management side of its business – first selling the waste processing site at Gourdie in 2015 and then its wood processing site at Petterden in 2017.
In her strategic report, Dorothy Laing, who founded the company with husband David in 1975, said the firm had reduced its civil engineering work to focus on housebuilding.
She said: "These significant disposals have been complimented by other, less radical, but equally important changes in operational activity.
"Within the civil engineering operation a decision was made to reduce the level of activity in exchange for focussing on projects which were going to deliver a profit.
"This has been supplemented by an increased build programme within the house building operation, which the civil engineering side contributes towards."
Mrs Laing noted that many of the group's competitors had gone out of business after the financial crash and the introduction of new market entrants with lower margins.
"As a result of the market crash in 2008, which impacted the construction industry severely, the competitive landscape in which the group operated changed significantly," she said.
"To remain competitive and preserve the core team, this required the company having to take on projects which had a significant impact on both margin and profitability.
"The directors, recognising that this wasn't a sustainable long term business model, decided at the expense of the turnover, to concentrate on operating in its core strength areas (housebuilding) and regions (Tayside and Fife) rather than taking on work to retain the core employees.
"These decisions have allowed the group to focus on working with key customers and suppliers where long standing relationships exist and deliver the type and quality of work the group's reputation was built on."
The firm's average number of employees during the financial year dropped from 98 to 77.
DJ Laing's net assets increased from £8m to £8.6m during the year.
rmclaren@thecourier.co.uk