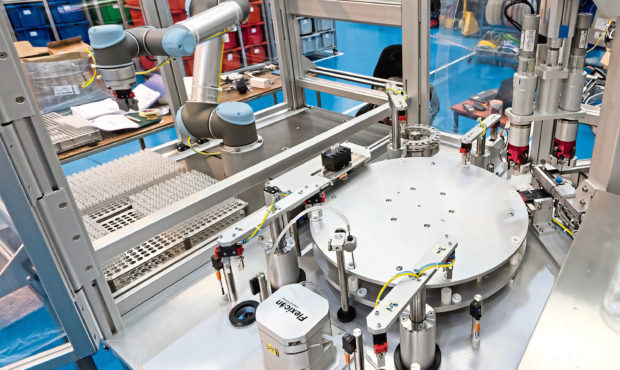 A Dundee automation specialist has claimed more firms are embracing cutting edge robotic technology to give them a competitive edge.
SP Technology, which has been creating bespoke automated systems for 35 years, has seen a rise in demand for its end to end services.
The Camperdown Industrial Estate firm has designed machines for diverse tasks in a wide range of sectors including manufacturing contact lenses, assembling medical devices and testing plumbing fittings.
SP's managing director Roy Henderson said a perception that increased automation leads to workers losing jobs was wide of the mark.
He claimed his company's clients usually look to grow their workforce in line with the investment in machinery.
"The perception that automation will simply take our jobs is so far from the truth," he said.
"More jobs are now being created through automation than have been lost. Most of our clients are looking to grow and take on more staff as a result.
"With new technology comes the need for new skills to allow these new improved ways of working to be taken forward.
"Organisations going on the automation journey need to embrace more than just a machine.
"They need to embrace the technology whilst developing and upskilling their employees to bring them on board as the automation helps them grow.
"Collaborative robots are now becoming more popular, to remove repetitive and sometimes dangerous jobs whilst working directly next to humans."
Mr Henderson said SP Technology's attendance at Scotland's first Robotics and Automation Showcase in Inverness earlier this month underlined a sentiment that now was the time to invest in automation, with a variety of support available including tax incentives and Government grants, helping firms get a return on the investment.
SP is planning its own automation showcase to be held at its factory in May.
"The message from the conference was clear — don't be afraid to automate or at least consider it," he added.
"Automation is there to enhance manufacturing and help grow your company to provide a means of increased output, improved quality and also a safer working environment.
"We are often faced with companies who don't know where to start. Regardless of the size of the organisation, it is always possible to break down the manufacturing process and identify which areas are causing the biggest bottlenecks.
"We emphasise the need for firms to invest time in their people to bring them on board and investigate what avenues they can go down to assist with funding.
"Some people may see automation as a costly option, but it is also prudent to ask how much will it cost if you don't."
rmclaren@thecourier.co.uk