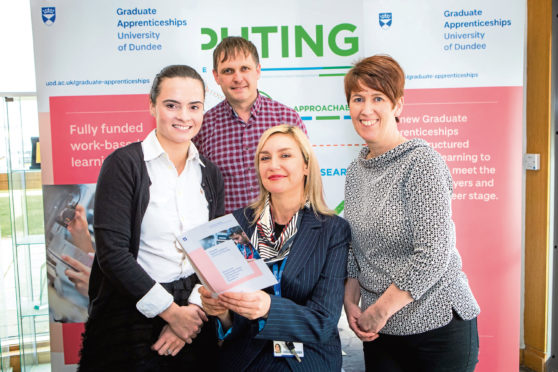 The University of Dundee has been selected to provide 110 graduate apprenticeships as part of a major collaboration with Skills Development Scotland (SDS).
The places are to be funded by the skills provider, with the University working in partnership with employers to provide qualifications in subjects covering business, civil and manufacturing engineering, IT and software.
It will allow graduate apprentices to combine their tuition while working at an organisation involved in their relevant sector of study.
Kirsty Scott, industrial liaison officer at Dundee University, said: "Graduate apprenticeships are making huge contributions to employers by retaining staff and skills in the local economy.
"By unveiling our largest number of graduate apprenticeships to date, we at the University of Dundee are illustrating our commitment to our local community and helping more people fulfil their career ambitions.
"We know there is a demand for this type and level of learning and this announcement is great news for employees, businesses, and the local economy."
Graduate apprenticeships combine work-based learning and high quality education, allowing both students and employers to benefit.
As well as allowing employers to develop the skills of an existing employee, graduate apprenticeships also allow new staff members to learn on the job, improving productivity, morale, retention and quality of service.
This latest announcement will see the University offer places in five courses from September – business management; engineering, design and manufacturing, civil engineering, IT management for business and IT software development.
Graduate apprenticeships have been developed by SDS in partnership with employers, universities and colleges, and professional bodies to create stronger links between education and industry.
rmclaren@thecourier.co.uk