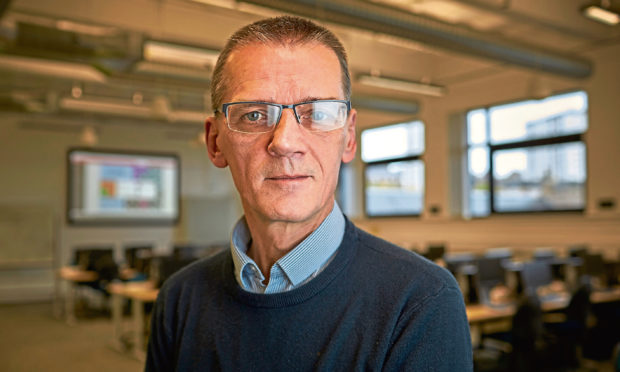 The man who helped establish Abertay University's ethical hacking course has described the worldwide shortage of cyber security workers as "horrendous".
Senior lecturer Colin McLean said many firms can't fill the specialist IT roles due to a global shortage of around 1.8 million workers.
Meanwhile a new report shows the number of cyber attacks against businesses surged last year, with more than 60% of companies reporting at least one attack in 2018.
Around 61% of businesses reported one or more cyber attack in 2018, up from 45% the previous year, according to Hiscox's Cyber Readiness report.
The recent spike in cyber crime included a number of high profile incidents, including data breaches at British Airways and Dixons Carphone.
Mr McLean said: "The shortage in man power to deal with the cyber security threat is quite incredible.
"Cyber attacks are now rated as the biggest business threat and many firms can't fill their IT positions, which leaves them vulnerable."
Abertay's ethical hacking course started with 16 students in 2006 and currently boasts 250 people enrolled at the university.
Mr McLean said many students line up jobs before they graduate – with starting salaries of between £28,000 and £30,000 not unusual.
"Very rapidly salaries can go up towards £50,000," he said.
"Once they've been in the industry for three to five years they are so valuable the opportunities are wide open for them.
"In 2010 I think every one of our graduates went to England or abroad.
"In the last few years we've seen many more of these jobs stay in Scotland. Unfortunately not too many of the students stay in Dundee."
Mr McLean hopes that might change with the creation of a new cybersecurity centre based at the university.
Funded with £11.7 million of Tay Cities Deal cash, the centre will fund PhD research.
It will also be an opportunity for small businesses to seek advice on the issue and IT firms to offer services.
"Having a specialised research centre in Dundee will be fantastic," Mr McLean added.
"Once the funding comes through, which should be November, we are hoping to have 10 PhD students a year working there.
"Some of the major companies will have a desk there once a week. It will be a busy place where people can come along and look at services offered by the businesses."
This week is Cyber Scotland Week which hopes to raise awareness of good cyber resilience practice and promoting a career within the industry.
Deputy First Minister John Swinney said: "Cyber Scotland Week is the perfect opportunity to showcase the innovative and exciting activity happening across the country and the work at Abertay University is a great example of this."
rmclaren@thecourier.co.uk