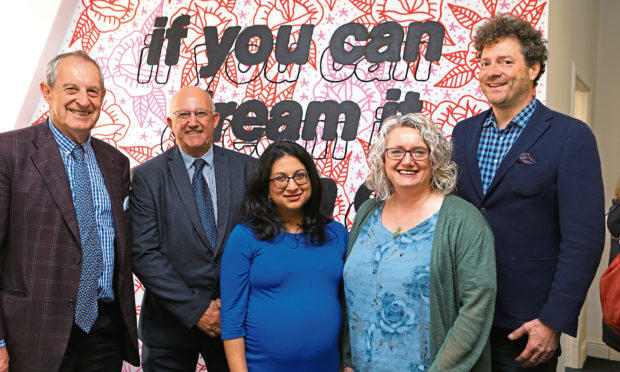 An enterprise hub which has been described as "transformational for the Dundee entrepreneurial community" has formally opened.
Launch It Dundee, was opened by Chris van der Kuyl, chairman of successful Dundee software firm 4J Studios, and young entrepreneurs at the facility are already hoping to follow in his footsteps.
The charity will provide space and support for up to 20 new businesses, across two floors at the Dundee Enterprise Centre at Meadowside.
Mr van der Kuyl reflected on the changes to the entrepreneurial environment since he opened his own business from a spare room in his parents' house 27 years ago.
He said: "The entrepreneurial journey is open to anybody and there is far more support for entrepreneurs in Scotland than anywhere else in the world.
"Launch It Dundee will be transformational for Dundee's entrepreneurial community and a place where companies that otherwise would have no home, will flourish."
One company who will be using the unit is Darkroom Interactive, a small group of games developers who studied at Abertay University.
Christian Stockholm from the firm said: "Launch It is a very positive step, and allows us to engage with other firms.
"We're hoping to emulate the success of Chris van der Kuyl."
The target audience for the unit is 18-30-year-olds who are unemployed, under-employed or struggling to access employment, and provide them access to the space and support required to grow their own business.
The leader of Dundee City Council, John Alexander outlined the demand for entrepreneurial space and support in the city.
He said: "Launch It Dundee is unique in that it does not just provide space, it also provides support to help people get their businesses off the ground.
"There is also work ongoing with the college and universities, and this will complement the other services available.
"I think it is important that people are supported into employment and there is a lot of entrepreneurial spirit in the city.
"For me, the important part is that there is both support and guidance available for the new businesses who are ready to take advantage of the diverse range of opportunities that exist in Dundee."
jimillar@thecourier.co.uk