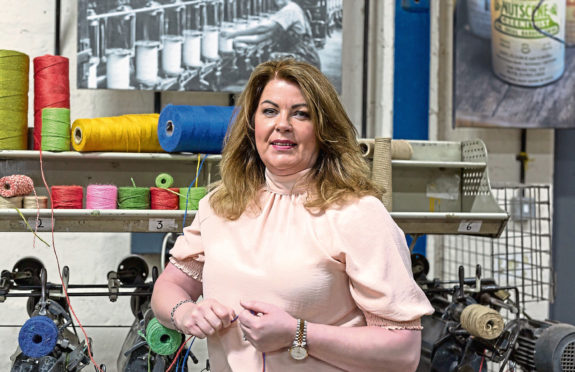 Determination is the vital component of a successful enterprise, the Courier Business Conference will hear next month.
Shona Young, chief executive of Nutscene Twines Ltd and Sheila Maid, an eco-friendly laundry drying system, has faced significant challenges in building a successful business.
This has included competition from inferior quality imported products and "institutionalised sexism".
The Angus-based business now employs 11 members of staff and exports a range of products to about 30 countries, with the main export destination being Japan.

The Kingsmuir firm, whose roots go back to 1922 and the jute trade in Dundee, still uses traditional methods and original machinery but has refocused the business in recent years to capture the more high-end trade.
Innovation and product development has been a significant part of the business. In 1999 Nutscene launched a range of design-led gardener-centric giftware, including the iconic "tin of twine" which sells worldwide.
Other products, all with an ethical ethos, include free-from-palm-oil Scottish soap, jute mats, rugs and runners, as well as door-stops and towel rails.
Shona said: "Things have certainly improved now but at one time we would come out of a business meeting thinking we had been treated differently because we were women. I've encountered some quite intimidating behaviour.
"When I first started working, it was in the oil and gas industry doing non-destructive testing, so what I'm doing now is a complete career change."
Another factor in modern business is that customers and potential customers now want to know much more about how the business operates.
Ms Young said: "People are interested in the carbon footprint of a firm, its green credentials and how ethical its procurement methods are and we are happy to demonstrate this to our customers.
"In our case for example, we use jute, which is biodegradable, to make our twine.
"It is actually a rain-fed crop and its cultivation method improves the soil."
A major breakthrough for the firm came when Shona found old boxes of adverts and labels.
The find, whose influence can be seen in today's products, has been credited with saving the firm at a time when it was facing competition from cheaper foreign imports.
Shona now gives inspirational talks in schools but says the message she gives to the pupils is the same as she will be taking to the Courier Business Conference – determination is key.
The conference, held in association with MHA Henderson Loggie, has a theme of inspiring success.
It takes place at Space at Dundee and Angus College's Kingsway Campus on June 18.