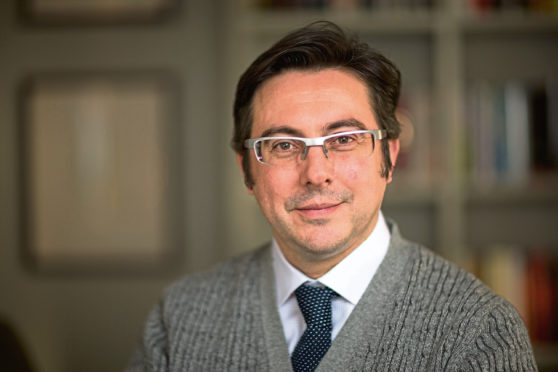 Dundee-based life sciences firm Exscientia has the option to become a shareholder in a Chinese company as part of a new drug partnership deal.
Exscientia is a world-leading drug discovery company which uses artificial intelligence (AI) as a key component of its work.
The new drug discovery partnership with Shanghai-headquartered GT Apeiron Therapeutics has cancer in its sights.
The collaboration will use Exscientia's full-stack AI drug discovery capabilities and GT Apeiron's proprietary technologies to accelerate the development of novel drugs via new pathways to tackle high impact therapeutic targets with an initial focus on oncology.
As part of the deal, Exscientia, a Dundee University spinout company, will have the opportunity to become a shareholder in GT Apeiron as well as receiving milestones and royalties from each programme.
Professor Andrew Hopkins, Exscientia's chief executive, said: "This is an exciting time for pharmaceutical research, with innovative approaches to drug discovery as well as the development of new commercial markets.
"Both are strongly evident in China, already the second largest national pharmaceutical market in the world, where we are delighted to join our expertise and technology with GT Apeiron to initiate our first discovery opportunity in the country.
"The medicines we generate by applying our AI platform and GT Apeiron's experimental expertise will focus on areas of significant unmet need with global potential."
Exscientia, which moved its headquarters to Oxford but retains a base in Dundee, already has a number of existing partnerships including deals with GSK, Roche, Celgene, Sanofi and Evotec, which are estimated to be worth over $1 billion in total.
GT Apeiron was launched by GT Healthcare Capital Partners, a life science-focused private equity partnership, with $27 million of financial backing.
Exscientia recently announced the opening of an office in Osaka, Japan, the new collaboration increases the firm's presence in Asia.
Dr Mingxi Li, board member of GT Apeiron, said: "We are delighted to partner with the world leading AI-driven drug discovery company who will also become a shareholder of GT Apeiron.
"We believe the joint effort will significantly improve drug R&D productivity to benefit patients."
jimillar@thecourier.co.uk