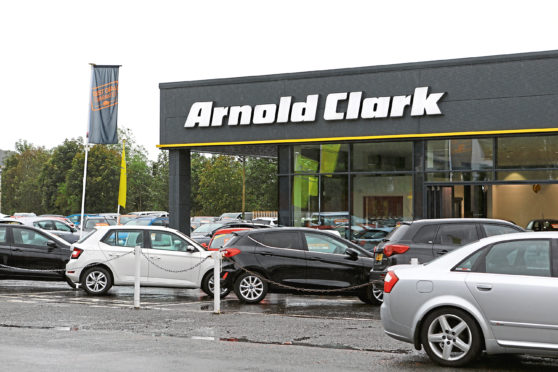 Motor dealer Arnold Clark said it expected sales of new cars to continue to decline this year.
The warning comes after newly filed accounts show the firm's new car sales dipped by 2.6% last year.
The firm's new car sales have fallen for each of the last four years – from 91,477 vehicles in 2014, to 68,344 last year.
Chief executive and group managing director Edward Hawthorne said the company's fall was ahead of a UK-wide 6.8% decline in new car registrations.
He said Arnold Clark would be impacted by a further industry slump in new car sales this year.
"With continued uncertainty around Brexit, we expect market conditions to continue to be challenging with SMMT (Society of Motor Manufacturers and Traders) forecasting a reduction in new car registrations of 2.3% in 2019," he said.
"As a group we anticipate that we will feel some impact from this but this will be offset by modest underlying growth in the used car market."
While new car registrations declined, a 9.5% jump in used car sales meant Arnold Clark's overall sales and profits rose last year.
The group recorded sales of £4.2 billion for the year ending December 31 2018, an increase from £3.9bn in 2017.
Pre-tax profits increased from £106.6 million in 2017 to £113.5m last year.
Mr Hawthorne said: "The previously observed decline in available new car stock in 2017 has continued in 2018 and was impacted further by new EU regulations on emissions testing.
"In addition to this, the severe winter weather conditions in early March resulted in many of our branches being unable to open for several days at what is a critical time for new car sales.
"Overall growth in revenue of 7.8% was primarily driven by used car sales with units sold increasing by 9.5% to 238,977.
"As a result of a continued focus on operational efficiency, we have been able to achieve improved vehicle margins, resulting in an increase in operating profit to £125.5m."
He said the firm had made a "strong start" to 2019 by focusing on having the right product mix and giving good value for money.
rmclaren@thecourier.co.uk