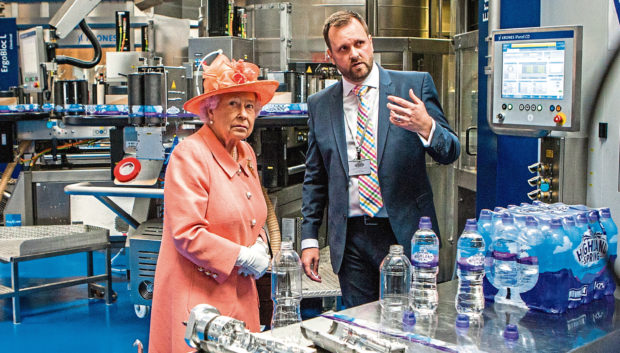 Perthshire based Highland Spring has blamed rising costs as profits slumped to £520,000 in its most recent financial year – down from £3.3 million previously.
Underlying operating profits at the firm fell by 43% to £2.37m for the year ending December 31 2018, as the group's sales exceeded £110m.
The Highland Spring Group bottles more than 400 million litres of water each year.
Its range of brands includes Hydr8, Speyside Glenlivet and private label flavoured and unflavoured waters supermarkets and retailers.
Its products are sold in more than 30 countries.
The company has been challenged by the rising cost of raw materials, particularly in relation to polyethylene terephthalate plastic, or PET.
The Blackford firm has been moving toward a 20% reduction in its use of PET, which it is believed can take centuries to decompose.
The increased cost of materials has been absorbed by the business.
The group has already rolled out a fully recycled and recyclable eco bottle across the UK following successful trials in 2018.
Mark Steven, chief operating officer of Highland Spring Group, said: "We are proud to have grown the Highland Spring brand, to enable us to maintain the No.1 branded position in the UK, adding over 23 million litres to volume sales.
"Annual sales of the Highland Spring brand now exceeds 300m litres, with Highland Spring Group's share of the total UK bottled water market at 16.4%."
In partnership with Transport Scotland and the Scottish Government, the firm is planning the construction of a new rail siding at the group's main bottling plant in Perthshire, which it estimates will remove around 8,000 truck movements from the road each year.
Mr Steven added: "Based on our market insight and the continued demand for healthy products, we are confident that there continues to be a strong market for natural source waters, which grew for the tenth consecutive year with annual growth of 7.9% in 2018.
"Significantly improved production efficiencies at our main Blackford facility, alongside a strong focus on supply chain management, have helped to partially off-set material price increases."
In August, the firm, which was formed in 1979, secured bank funding of £55.5m from HSBC, which will be used to support the firm's environmental projects.
jimillar@thecourier.co.uk