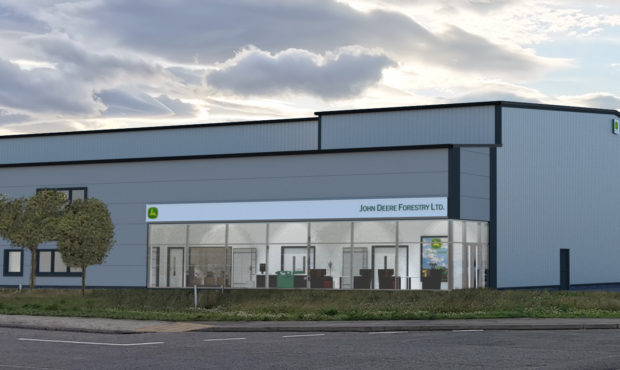 John Deere Forestry is investing £2 million in creating substantial premises in Perth in a move described as a "real boost" for the city.
More than 20 jobs will be created with the development at North Muirton Industrial Estate. It will be the machinery giant's largest UK operation.
The Arran Road site will contain a sales operation, backroom staff, a workshop and a spare parts service that will cover the whole of Scotland.
UK managing director Jock McKie said Perth was the ideal location to service the firm's forestry customers.
He said: "All of our machines have satellite linkage and we can see where they are located.
"We realised that Perth was a tremendous central location in terms of average time to machines.
"From a logistics point of view Perth has good links and the city itself gets a good name, with not much unemployment. We felt we would get a good class of employee in Perth."
The company – which is a subsidiary of $50 billion heavy machinery giant John Deere – currently runs its UK operation from Carlisle. That facility will remain to cover England.
The building work is being conducted by Perth construction firm Algo, with the steel work already in place.
Mr McKie said he hoped the site would be operational by March and would put the firm in a strong position for the expected growth in forestry in Scotland.
He said: "Forestry in Scotland is predicted to grow by 48% in the next 10 years.
"This strategic move is about getting quicker support and parts to customers so that we remain their preferred supplier and strengthen our market share.
"We have recruited for a lot of positions with some of the staff working in Carlisle to learn the product and the business who will move to Perth.
"The customers can see our move to Perth will be a huge benefit for them."
The investment was welcomed by Perthshire Chamber of Commerce chief executive Vicki Unite who said the high-profile name moving to Perth was "superb".
"We all work hard to promote this area to potential investors, raising benefits such as access to a skilled labour force and excellent connectivity and accessibility through being centrally located," she said.
"With John Deere Forestry creating their largest UK operation here and bringing more than 20 jobs, they are providing a real boost to the area.
"The fact that they can also strongly support their customers who rely on their products and services is really important to our rural economies who need to ensure maximum productivity.
"Choosing local construction company, Algo, to create this new build further demonstrates their commitment to Perthshire and we look forward to working with them and offering as much support as we can."