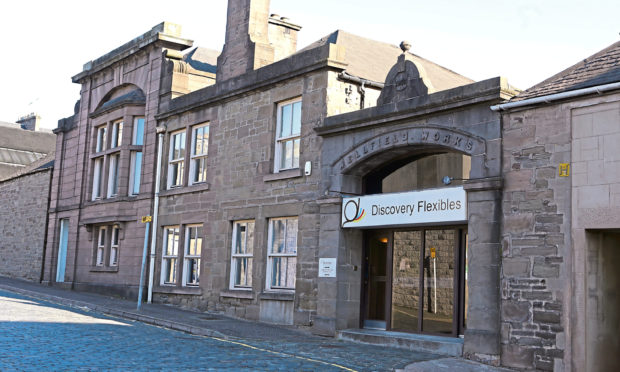 The new owner of a Dundee manufacturer has revealed the company was on the brink of administration earlier this year.
Jimmy Urquhart purchased packaging firm Discovery Flexibles, which has a factory at Kemback Street, for a nominal sum in February.
Mr Urquhart, who has worked for the firm for 35 years and holds the position of general manager, said he was determined to fight for the future of the significant local employer.
"If I hadn't the business would have most likely gone into administration, with the loss of more than 80 highly skilled local jobs," he said.
"I chose to try to rescue this business rather than just walk away, due to my belief in the team of people within Discovery Flexibles and my belief that it can be a very successful packaging company going forward.
"As general manager, I've pretty much been the outward face of business, so our customers all know me already which helped with the transition."
Discovery Flexibles has worked in the flexible packaging market for more than 60 years.
The company specialises in printing and converting films, paper, aluminium foil and laminate structures. Its key markets include the food, confectionery and healthcare markets.
Newly filed accounts show that in the 16 month period to December 31 2018, the firm had sales of £14.9m which resulted in a pre-tax loss of £1.5m.
This compares to revenues of £7.7m and a loss of £278,000 in 2017.
Contributing to the loss were £277,000 in management charges by the previous owner and £256,000 of bad debts that were written off.
Mr Urquhart said: "Clearly there is a financial void to bridge, which we are working our way through, to put this business back onto a much stronger footing.
"Nine months down the line, it is a different business now.
"However, this is a tough industry and we don't under estimate the challenges in front of ourselves.
"I've met with most of our key customers and suppliers and openly discussed the situation with them from the start of taking this business on.
"They are all backing and supporting us which is great to see."
Mr Urquhart said the company had a number of new products coming to market which could deliver a "step change" for the business.
These include a new drinks pouch, which was granted a patent in April.
The firm is also working on a film that would extend the shelf life of food.
"In the war against plastics, we are also offering our customers, sustainable options that are unique," he said.
"We are all working hard towards a much brighter future."
rmclaren@thecourier.co.uk