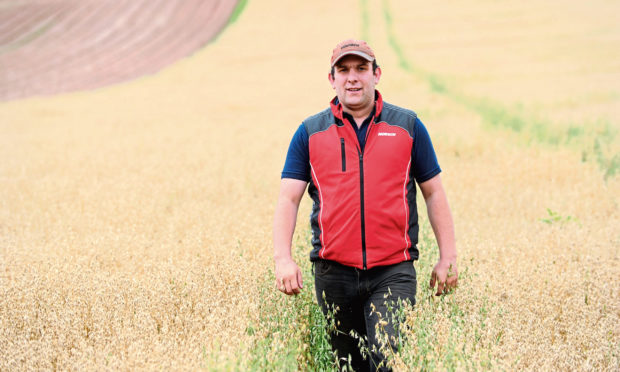 An Aberdeenshire farmer says he has seen encouraging results from introducing sheep grazing to his crops over the winter months.
Iain Wilson, farm manager at Tulloch Farms near Laurencekirk, manages almost 2,000 acres of land, the majority of which is used for arable cropping.
In a bid to improve yields, Mr Wilson embarked on a trial project which saw 450 blackface ewe lambs graze on 25 acres of oats, 25 acres of wheat and 37 acres of oilseed rape. The flock grazed each block for four weeks, starting from the end of November.
Mr Wilson said the sheep feed on the foliage, which he believes helps stave off disease and winter kill, while giving the roots, which are compacted by the grazing, time to grow stronger.
He said one of the benefits of using sheep is the improved soil health and nutrient status which comes from manure, meaning there is less need for artificial fertilisers.
However, for the trial, Mr Wilson continued to add fertiliser because the project was seen as a conditioning mechanism.
He said the benchmark yield for oats on the farm was 3.4 tonnes per acre, but the trial saw the grazed field produce 3.65 tonnes per acre.
The project is now going to the next stage, which will see sheep grazing an increased area of 250 acres, comprising 60 acres of oats and 190 acres of wheat.
Mr Wilson said the project had allowed crops to be planted earlier which meant a steadier workload across the season – a major benefit on a low staff, low machinery farm.