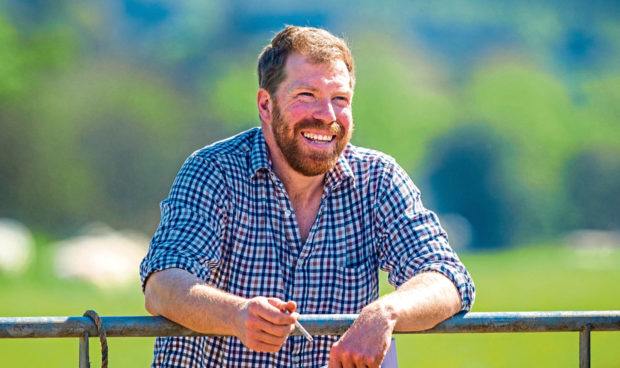 As I write this I'm looking out the kitchen window, my heavily pregnant girlfriend Morag is sunbathing in the garden under clear blue skies, with Floss snoozing in the shade and a gentle breeze delivers the scent of the flowering yellow broom to our door.
I see two of our early twin lambs race towards their mother and lift her about a foot off the ground as they dive in for a "sook". All seems well with the world.
As I glance eastwards towards Strathmore with its patchwork of fields it's hard to believe we're in a national crisis. I feel very fortunate to work and live where I do, far from the madding crowd.
Lambing is almost finished for another year apart from a couple of "hingers on" that the tup must have got friendly with at the Christmas party. It is a wonderful time of year. I always regard it as the light at the end of a very long tunnel.
When it's raining in mid-February and everything looks dreich and miserable – including myself – I dream of days like this: Crops sown, lambing done, grass growing, cattle out.
Of course there are still lots of jobs to do, but the pressure is off a wee bit.
Back in my Young Farmers days I would be relishing the prospect of heading to the Fife Show in a few weeks to have the first big blow-out of the year, and I really feel for farmers of all ages who won't be attending any shows this year, because its crucial to get a day off now and then and get a catch up with auld faces.
However, the real reason I am a bit uneasy is because now I can no longer make excuses for putting off the long list of DIY jobs Morag has patiently been asking me to do for a few months.
It's easy to say "no" during April. When Morag asked: "Can you fix that door handle?" I'd reply: "Sorry love, there's a yow lambing."
She'd ask: "Can you fix that shelf?"
"Sorry darling, there's a grain drill on it's way."
It's now May and my quota of excuses has been used up.
I don't know why I shudder at the thought of DIY so much. I pride myself at being able to weld metal, sort a puncture on a bogie tyre, and put up a fence, but when it comes to hanging a picture on the living room wall I just clam up.
Maybe it's because the job has to be done right with no margin for error. When I'm welding and it looks rubbish I can just grind it out and do it again. In fact I would give it a triple weld just to make sure.
But Morag is (rightly so) a perfectionist and doesn't buy into my "aye , that'll dae fine" philosophy.
To add to the pressure she threatens to "get a man in" to do it right or – even worse – she casually says "well I can always get my dad to do it".
However, I think the responsibility of becoming a father does something to a man and I'm pleased to say my DIY skills have greatly improved over the last few days. I'm no Handy Andy, but I am now at peace with a Black & Decker drill and we even managed to put up patterned wallpaper the other day… a stern test for any relationship.
As I now look at our newly decorated nursery with its expertly erected shelves, wallpaper and freshly painted ceiling, I feel a great sense of satisfaction as we are now ready for our very own "lambing".
I just hope Morag isn't a "hinger on"!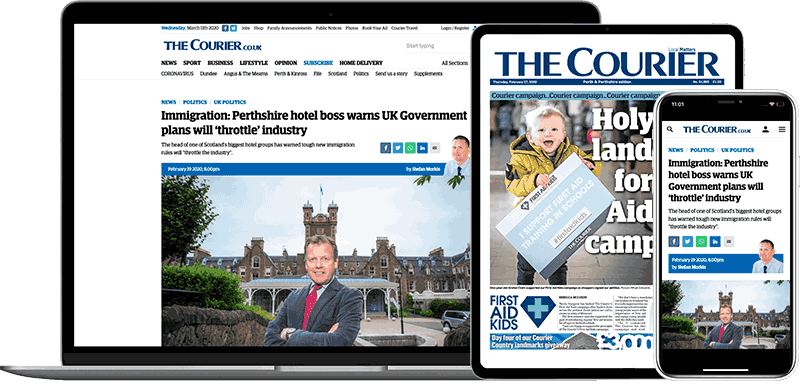 Help support quality local journalism … become a digital subscriber to The Courier
For as little as £5.99 a month you can access all of our content, including Premium articles.
Subscribe