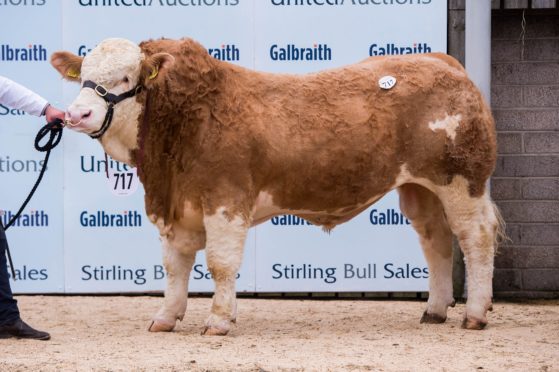 Simmentals met a steady yet selective trade at the Stirling Bull Sales with seven lots selling for five-figure prices.
Averages were back £1,009 on the year to £5,178 for 66 sold, with a clearance rate of 65% achieved.
The sale leader at 15,000gn was the reserve junior champion from the Stronach family's Islavale herd at Berryleys Farm, Grange, Keith.
This was April 2018-born Islavale Jackpot, by Corskie Highlander. He sold to the Quarm family for its Annick herd at Irvine.
The next best price of 14,000gn was achieved three times.
First at this price, selling to Hertfordshire breeder Bridget Borlase for her Sacombe herd, was February 2018-born Team Jackpot, by Team Celtic, from the MacGregor family at Kirkton of Mailler, Craigend, Perth.
The second lot at 14,000gn was the overall champion from the pre-sale show, judged by Adrian Ivory, Strathisla Farms, Meigle, Perthshire.
Mr Ivory honoured his judging decision and bought May 2018-born Ranfurly Jackall, by Team Celtic, from the Hazelton family, Cohannon House, Dungannon.
The third 14,000gn lot, selling to S Gummow, Higher Killaworgey Farm, Cornwall, was another entry from the Stronach family's Islavale herd. This was April 2018-born Islavale Jericho, by Ranfurly Confederate.
Other leading prices included 12,000gn for the reserve intermediate champion from the Stronachs.
This was April 2018-born Islavale Jacob, also by Ranfurly Confederate, and selling to the Logans at Dalfask Farm, Girvan.
Another Stronach bull – March 2018-born Islavale Joker, by Atlow Dixon – made 8,500gn to the Leslies at Redhill, Mosstowie, Moray.
In total, the Stronachs sold four bulls to average £12,862.50.
The Houlistons, who run the Saltire herd at Drem, North Berwick, sold to a top of 10,500gn.
March 2018-born Saltire Judge, by Woodhall Ferarri, sold to Stewart Farms, Balglass, Lennoxtown.
The final five-figure lot, selling for 10,000gn, was May 2018-born Auchorachan Juggernaut, by Curaheen Gunshot, from Glenlivet breeder Michael Durno. He sold to Pitgaveny Farms, Elgin.
The intermediate champion, March 2018-born Drumsleed Jeronimo, by Wolfstar Gordy, from the Smith family at Drumsleed, Fordoun, Laurencekirk, sold for 8,500gn to AD Sutherland, Connachie, Elgin.