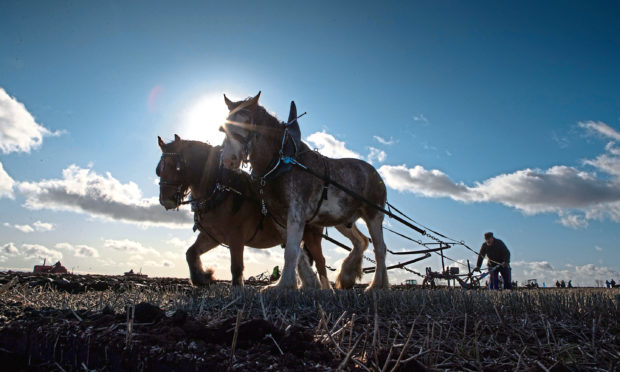 One of the most scenic national ploughing matches ever to be held in Scotland attracted thousands of spectators to the "golden fringe" of the East Neuk over the weekend.
From early on Saturday morning more than 300 acres of the kingdom's prime land came alive with tractors, ploughs and horses as ploughmen were put through their paces in the finals of the Scottish Ploughing Championships.
Traffic slowed then turned in to watch the spectacle of 165 Scottish ploughmen and 35 Europeans focusing on their small plots of land in the fields of Bowhouse Farm near St Monans.
The sun shone and the ground conditions were perfect all weekend, but Cupar contractor Willie Grieve, the chairman of the organising committee, said last weekend's torrential rain had cast doubt over the event going ahead.
"I lay awake all last Saturday night worrying after a month's rain fell in under 24 hours," he said.
"We checked with the estate how long the land would take to recover and they said if the forecast of a dry week was accurate, we'd be good to go," continued Mr Grieve.
"And thankfully we got away with it. There aren't many farms in Scotland that would have dried out so fast."
The overall championship was won by Forfar farmer and world champion Andrew Mitchell Sr, who competed in the conventional classes.
Dave Carnegie from Laurencekirk won the reversible championship and the top horse ploughman was Jim Elliott from Aberdeen.
The winner of the European vintage competition was Richard Ingram from England.
The weekend's action was preceded by a ceremony in St Monans Church where Mr Grieve's own plough was taken into the church and the Rev Graeme Beebee conducted a Blessing of the Plough, a tradition at the national event.