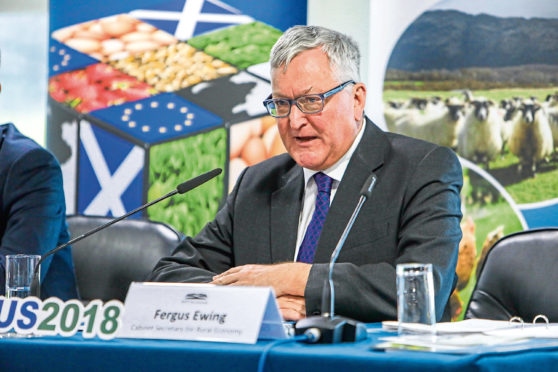 Producers in the hills and uplands look set to be the main beneficiaries of the initial £80 million of convergence funds to be distributed by the Scottish Government.
Rural Economy Secretary Fergus Ewing has announced the first half of the £160m will be focused on active farmers in the hills, uplands and islands.
He gave no details of how and when the money will be distributed, but more information is expected today when he hosts a briefing at the Scottish Parliament.
However, the indications are that the long-awaited funds – part of the EU package originally intended to close the gap in support between Scottish farmers and the EU average but instead distributed across the UK by Westminster – are to be used by the Scottish Government to plug the hole in the Less Favoured Areas Support Scheme (LFASS) budget rather than share it out across all regions.
NFU Scotland (NFUS) president Andrew McCornick issued a statement saying the union couldn't support the government's proposition to use any of the £160m pot to address the LFASS shortfall or to spread payments across two years rather than one.
"To strip this money from the £160m to fill the hole in the LFASS budget is a missed opportunity and a blow to beleaguered Scottish farmers and crofters," he said.
He went on to reiterate the union's controversial advice to government, which is to increase the basic payment scheme rates in Regions 1, 2 and 3, with extra weighted support to the Region 2 and Region 3 budgets as well as top-ups to the coupled beef and sheep schemes. NFUS says their proposals would deliver one-off uplifts of 100% for Region 3, 50 % for Region 2, and 25% for Region 1.
Mr McCornick said: "The Scottish Government must recognise that, as well as the hugely valuable contribution of our cropping land in this region, there are significant amounts of grassland in Region 1 and support here would support all our vulnerable livestock sectors.
"Unfortunately, by funding LFASS through stripping this pot of money – as the Scottish Government intends to do – it will immediately lower what all three regional payments could have been and that will have a significant impact, not just on the arable sector but on the livestock sectors which are predominantly underpinned by Region 1 permanent pastures and grassland."
nnicolson@thecourier.co.uk