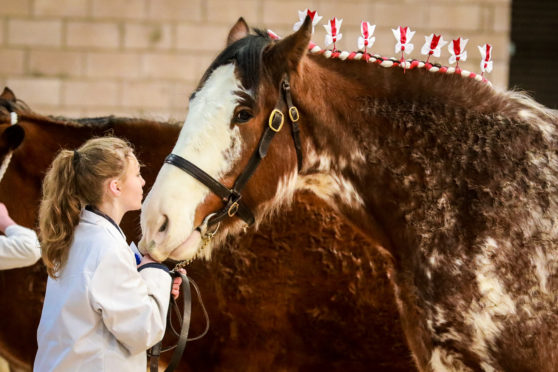 The champion at the Clydesdale Winter Fair at Lanark Mart was the same filly that took the championship at this year's West Fife Show.
She was the three-year-old Glebeview Lady Izzy, from Charlotte Young of Ayr, and recently sold privately to a buyer in Essex.
Lady Izzy is sired by Glebeview Sir Charles and out of Glebeview Cassie, a daughter of Doura High Spirit.
Judge Walt Bedford, from York, selected the foal champion as reserve overall.
She was Val Smith's filly foal, Pitmurthly Final Command Piper, from Redgorton, Perth.
Produced by Ronald Brewster of the Bandirran stud, she was champion at the North of Fife Foal Show two weeks previously.
The sire of this one is Glenside Barlauchlan, while the dam, Bandirran Charlotte, was given to Val as a gift from her husband Gregor, five years ago.
Near neighbours Thomas Clark and Son, of Abbey Farm, Madderty, took the reserve foal championship with Muirton Spirit, a Muirton Sabre son which was on his first show outing since being bought from Northern Ireland after being seen there with his mother, Croaghmore Roxy, in July.
Reserve overall senior was the yearling filly Lutterington Butterfly, owned by Durham-based Harry Emerson, and brought out by the Blacks at Collessie.
Sired by Collessie New Approach and out of past Winter Fair champion Coachmills Lady Helen, Butterfly was champion at seven foal shows in 2018, including the Winter Fair.
An inaugural champion of champions competition was held, including winners from this year's shows, and was judged by breed stalwart Hugh Ramsay, of Millisle, Newton Stewart.
Winning that strong contest was Sandy Aitken and family, of Memus, with the 2014 Royal Highland Show champion and Cawdor Cup winner Redcastle Pretty Amazing Grace.
This mare, by Millisle Solway Bay, was bought several years ago as a yearling from John Anderson, Arbroath.
She has since won at every show she has attended, including the Aberdeen Clydesdale Show in 2017 and 2018.
Standing reserve to that one was Charlotte Young's impressive stallion Doura Magic Touch, a son of Glebeview Sir Charles, which was champion at the National Stallion Show in 2018 and 2019 and took the overall championship at this year's Royal Highland.
Second reserve was Harry Emerson's Lutterington Butterfly.
The young handler section was won by Edward Leverett from Flintshire, with Heather Keron finishing second and James Burks in third.
Leading awards:
Novice handler: Paula Jenkins.
Senior gelding: 1 Bryan Lindsay's Dillars Rascal, 2 Janis Ashworth's Collessie Advance.
Senior mare or filly: 1 Charlotte Young's Glebeview Lady Izzy, 2 David Patterson's Agivey Sophie, 3 David McGill's Caperhill Cleo.
Filly born in 2017: Alasdair Fletcher's Fordelhill Wildflower, 2 J and T Pleavin-Edge's Manor Bonnie Marie, 3 JE Bellas' Croftends Poppy.
Colt or gelding born in 2017 or 2018: 1 Yvonne Pringle and Doug Copland's Mardoug's Highland Park.
Filly born in 2018: Harry Emerson's Lutterington Butterfly, 2 William Dunbar's Doura Ballerina; 3 James Neill's Rossie Moira.
Senior colt foal: 1 Thomas Clark and Son's Muirton Spirit, 2 John Graham's Burnbank Prince Harry, 3 Robert Hamilton's Dillars Moneymaker.
Senior filly: 1 Val Smith's Pitmurthy Final Command Piper, 2 A Steel and Son's Jackton's April Grace, 3 Ronnie Black's Collessio Catherine.
Junior colt foal: 1. Robert Hamilton's Dillars Chase, 2 Ronnie Black's Collessie Kaleidoscope, 3 Robert Sibbald's Thorn Union Jack.
Junior filly foal: 1 Moyra Stewart and Robert Barr's Fairhavens Anastasia, 2 Charlotte Young's Doura Imelda, 3 Sandy Aitken and Keira Gowans' Aird Abbey.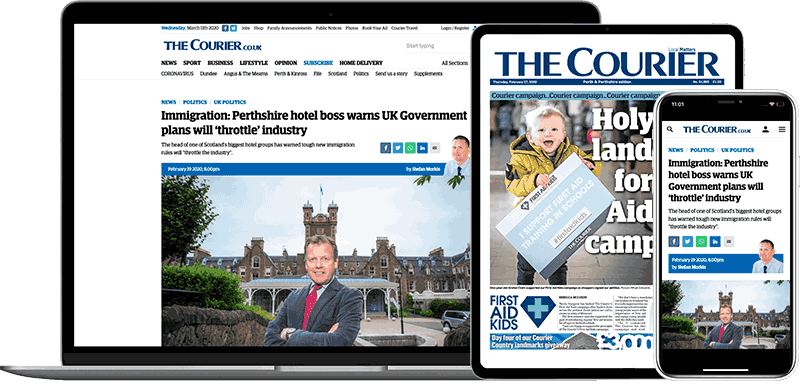 Help support quality local journalism … become a digital subscriber to The Courier
For as little as £5.99 a month you can access all of our content, including Premium articles.
Subscribe