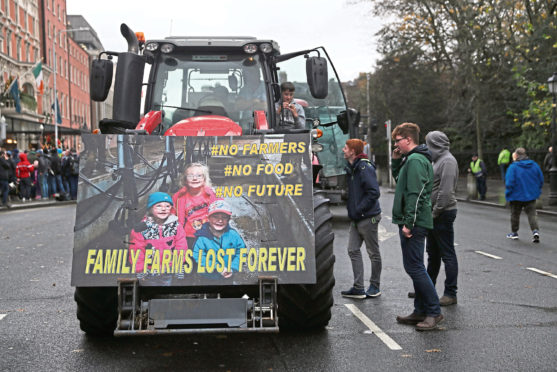 A European thinktank has for the first time published an assessment of which member states do best from the Common Agricultural Policy (CAP).
This is based on an analysis similar to that used by the Organisation for Economic Co-operation and Development (OECD) which compares global farm support by using a producer support estimate (PSE) measure.
The report is from the Centre for Global Development,
Despite pressure for CAP payments to be averaged across member states, it reveals that those making the case already do well. It claims support as a percentage of farming economic activity (PSE) is much higher in eastern European member states compared to the west, and it is highest in the Baltic states, Bulgaria and Greece – which include the member states demanding action to increase their payments.
The PSE figures in these countries top 30% while the figure for France, the biggest CAP beneficiary in financial terms, is 19%. The UK figure at 18% is the same as the EU-28 average.
Protests in Germany and Ireland
The protests in Germany by farmers, which saw Berlin blockaded by tractors, seem to have had a positive impact on the government. Chancellor Angela Merkel, and her farm and other ministers, met the leaders of 40 German farm organisations, and sought to reassure farmers that the government was on their side.
The government offered a commitment to do more to encourage young people into the industry and to find ways to ensure society better rewarded farmers.
Merkel also underlined that Germany must have its own farm sector, rather than looking to imports.
In Ireland, farmers have continued their protest against low beef prices by blockading retailer deports, with Lidl and Aldi its initial targets.
US trade sanctions threat
The US increased its threat of trade sanctions against EU food, with cheese again in the firing line. The EU lost the latest round in the battle over subsidies to Airbus, meaning threats of punitive tariffs on EU food and wine still stand.
Now, on top of that, the US is threatening further tariffs of up to 100% on speciality cheeses in a battle with France over a digital tax affecting mainly US-owned online businesses.
The Trump administration is portraying this and a trade battle with China as evidence it is happy to talk and act tough to protect US interests.
This underlines how volatile a future trade relationship between the UK and the Trump administration could be.