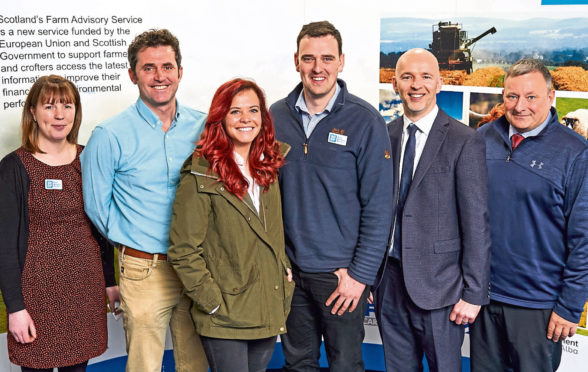 New farmers were challenged to make their own opportunities when 120 young entrants to the industry met in Perth.
The annual New Entrants to Farming gathering was inspired by a shepherdess who swapped city life for the countryside, an entrepreneur who created an outdoor centre on five acres of farmland and a first-generation farmer who combines beef and sheep farming with gin production.
Former agriculture student Jenny McKerr told the meeting how she had worked in the Scottish beef industry before she and her husband bought a small beef and sheep farm in South Lanarkshire four years ago.
The couple have now set up a distillery to produce a gin to drink with beef and planted an orchard to provide fruit for their gin liqueurs, as well as building up their livestock business.
Jenny said: "The advice I would give to my daughters is do it your own way, be the black sheep and don't just follow a farming model.
"Have a plan and make it your own. Chase opportunities or create them. There are so many opportunities out there. Find what makes you happy and do more of it."
Another delegate, Kirsten Williams of SAC Consulting, in Turriff, said: "It's all about farming to suit your own environment and moulding your enterprise to fit your circumstances.
"There are challenges to be faced by aspiring farmers wherever you live in Scotland, but everywhere also has a value, and it's important to consider that as well."
The event, organised under the Scottish Government's Farm Advisory Service (FAS) programme, also heard from Duncan McConchie, who returned to agriculture in Dumfries and Galloway after working in the TV industry in Yorkshire.
He built up an outdoor adventure and recreational centre on five acres of his family's farm and has since moved into the wedding market.
"Where there's a will, there's a way," he said. "There is a vibrant tourism market out there. We don't have a fear of borrowing. We have total confidence in the product we have and the customers who are coming to us."
Other speakers included social media star Hannah Jackson, "the Red Shepherdess", who also came into farming as a new entrant and has since set herself up as a contract shepherdess.
She said she had faced many challenges along the way, but had overcome them by looking for opportunities to expand her knowledge.
"Opportunities are not just going to present themselves to you," she said. "You have to go out and look for them. Think outside the box.
"If you're passionate, confident and enthusiastic, it's hard for someone to turn you away."
nnicolson@thecourier.co.uk