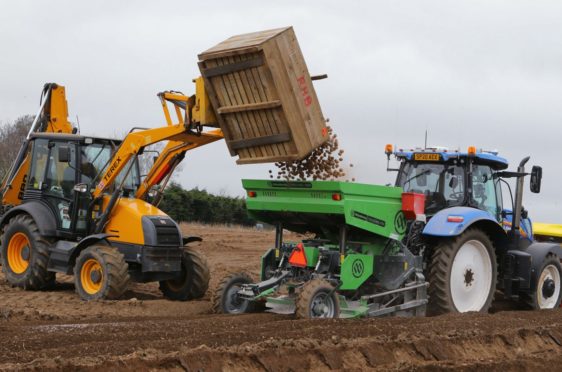 Three weeks on from the imposition of unprecedented restrictions on working practices, growing levels of absenteeism and distorted markets, the essential cogs that keep the food and farming industries in operation are creaking, but turning more efficiently than might be expected.
Unforeseen consequences of the nationwide shutdown to counter the spread of Covid-19 are coming to light every day, and sector leaders fear many effects are still to be uncovered, but detailed and co-ordinated contingency planning for an uncertain future has quickly replaced the shock that rocked the industry at the end of March.
Industry insiders report sectors settling in to a rhythm of strict physical distancing which has resulted in lower productivity in the meat processing sector, and working round new haulage challenges which include a lack of cost-effective back loads for grain or fertilisers which are usually filled with aggregate or equipment for the building sector which is no longer operating.
The Agricultural Industries Confederation (AIC) is working closely with government officials to ensure inputs such as animal feeds, fertilisers, seeds and crop protection products continue to be available, and it is also attempting to pre-empt problems which may arise.
International shipments of grain are still moving, and a large vessel loaded with soya reached Europe from South America last week but, closer to home, the closure of quarries could lead to reduced supplies of calcium carbonate which is added to feed and also used for agricultural lime.
The AIC's Scottish policy manager, Ian Muirhead, who farms in Stirlingshire, says their strategy is to prepare for the worst.
"We are talking to Food Standards Scotland, for instance, to ensure animal feed labelling rules can be temporarily relaxed if raw materials are in short supply and have to be substituted, and we are making progress on that issue, so long as nutritional compositions are the same," he said.
"We are also looking at a possible derogation in competition law, so if a feed mill had to shut down and there were shortages, specific information could be shared to avoid any animal welfare issues.
"Our key message to farmers is to speak to your suppliers and plan ahead which will help our members plan production."
Reports from the meat plants have focused on the implications of social distancing on the speed of the production lines and throughput, and Andy McGowan, who is president of the Scottish Association of Meat Wholesalers (SAMW), says that while the plants have adapted to the need for creating space between workers, it is proving more difficult to cope with the unpredictable nature of absenteeism.
"We're seeing absentee levels of 10-20%, and more in some cases, so there are fewer people on the ground and it is impossible to plan ahead when a member of staff might have to suddenly isolate because a family member has symptoms," he said.
"Companies are prioritising worker safety, of course, but the two-metre distancing rule is creating specific challenges for individual plants, and it's more of a problem with the smaller species such as sheep and pigs, because the smaller the species, the closer workers are usually spaced. To deal with that, some plants are now using one person to do two jobs in succession, which means the line is not operating at full speed. It's less of a problem on the beef lines.
"The boning and butchery areas usually involve a long table with people working closely together so removing every second person is halving the capacity of that operation too."
Mr McGowan, who is also chief executive of Scottish Pig Producers, added that in some exceptional cases animal welfare priorities required workers to be in close proximity which had companies moving to install perspex screens and other measures to ensure they were safe and physically isolated.
Meanwhile, agronomists are continuing to offer advice by inspecting fields but speaking to farmers by phone rather than in person, and farm co-operatives like East of Scotland Farmers (ESF) at Coupar Angus who run retail outlets with animal health products and pet food have adapted practices to provide an essential service to members and the public.
nnicolson@thecourier.co.uk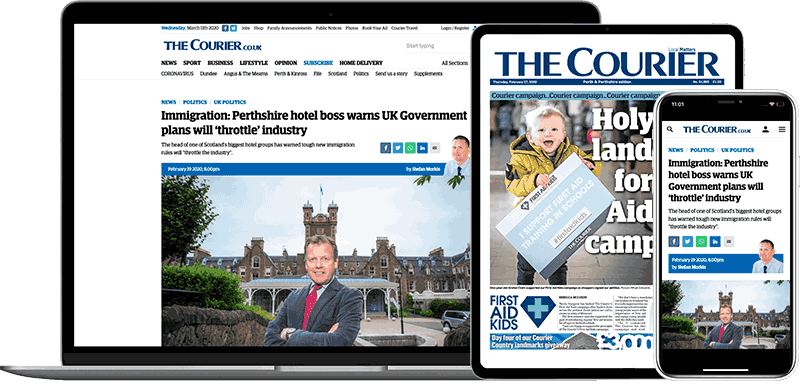 Help support quality local journalism … become a digital subscriber to The Courier
For as little as £5.99 a month you can access all of our content, including Premium articles.
Subscribe