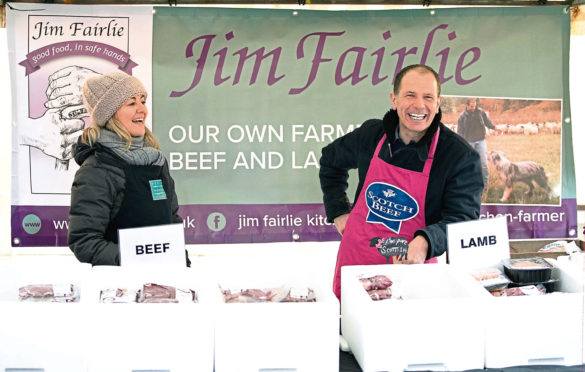 The aroma of sizzling steak burgers, bacon rolls and baking meat pies is an essential component of any summer show or festival – but no appetising scents will be wafting across a racecourse or showfield any time soon.
And that's a big problem for caterers like Logiealmond farmer Jim Fairlie whose Kitchen Farmer stand season had been due to launch at the first of Scone's 2020 horseracing meets this week.
Like hundreds of other producers who have diversified their core farming businesses to edge closer to the marketplace, the cancellation of large public events and farmers' markets means Jim is now facing the challenge of finding new outlets for the beef currently maturing in the chill or the cattle and lambs still grazing his Perthshire fields.
The man whose energy and drive got Scotland's first farmers' market off the ground in Perth more than 20 years ago is now turning his mind to even more direct marketing.
"Some of our biggest venues such as the Royal Highland Show, Gardening Scotland and the Paisley Food and Drink Festival have already been cancelled, and we can only hope there's a chance of events like Farming Yesteryear at Scone or the Christmas lights at Perth city centre taking place later in the year, but we're well aware big gatherings will be the last things to return after the Covid crisis," he said.
"It means farmers like us need to adapt, work out the logistics, and consider all the things we don't usually have to think about. Clearly we need to generate an income to ensure the business is there at the other end, so we'll advertise mince packs and deliver to houses in the area and then put our minds to how to market the more expensive cuts.
"We're seeing Perth and Kinross Council come up with good guidance for local food deliveries and the Scottish Government are doing something similar, so there's support out there."
Many regulars on the farmers' markets scene have already switched their focus to direct marketing and the Soil Association is now wading in with practical advice and an online discussion next month on how to adapt farm businesses during the pandemic.
The advice will come from Denise Walton of Peelham Farm and butchery in the Borders who usually sells at farmers' markets and to restaurants, and has seen a huge increase in online orders in recent weeks, and Reuben Chesters of Locavore in Glasgow who runs an organic supermarket, veg box scheme and market garden, and has started selling online through the Open Food Network.
The digital farmers' market movement, NeighbourFood movement which is already well established in Blairgowrie, Killin, Peebles, Stirling and Balfron, has reported an increase in sales from producers to the local community of between 300 and 400% since the start of the coronavirus crisis, and is now seeing a groundswell of interest in other areas. New hubs are scheduled to launch soon in Falkland and at Megginch Castle at Errol.
Fiona Richmond, head of regional food at Scotland Food & Drink, said innovative and entrepreneurial suppliers are recognising the demand for local high quality produce that can be delivered to the door – and seizing the opportunities.
"NeighbourFood is a tried-and-tested model and provides an easy way for farmers' market organisers and their suppliers to essentially put their market online and broaden their consumer base," she added.
"With additional funding unlocked from the Regional Food Fund, we can open the established NeighbourFood market up to new organisers and suppliers with wrap-around support for migrating sales online."
Participants in the Falkland NeighbourFood market, which will be based at the village Centre for Stewardship, include Falkland's orchards and the Strathearn Cheese Co, while at Megginch Castle, vegetables, meat, eggs, dairy produce and more will be available from producers who include Glenisla beef and sheep farmers Incheoch Farm, and specialist potato producers Skea Organics.
nnicolson@thecourier.co.uk
Go to www.soilassociation.org/our-work-in-scotland/scotland-farming-programmes/events/sell-direct/ for details of the Soil Association online selling discussion on May 7. Details of NeighbourFood markets can be found at neighbourfood.co.uk and Jim Fairlie can be contacted on his Kitchen Farmer Facebook page.