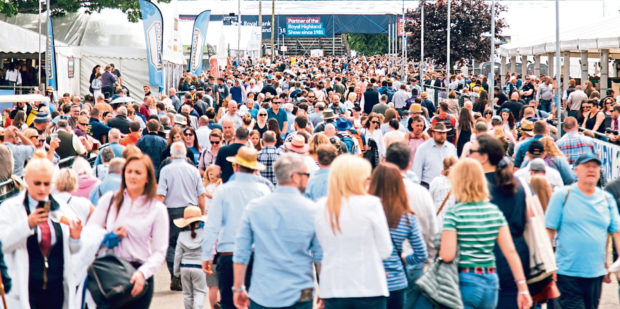 The future viability of Scotland's largest agricultural organisation has been put into question by auditors following the cancellation of its flagship event due to Covid-19 restrictions.
The latest annual report for the Royal Highland and Agricultural Society of Scotland (RHASS) contains comments from EY Auditors over the impact of coronavirus on the society, which organises the four-day show each year.
The auditors say "a material uncertainty exists that may cast significant doubt on the group or charity's ability to continue as a going concern".
RHASS chief executive Alan Laidlaw said the auditors' comments related to the general economic uncertainty surrounding the pandemic and the lack of clarity on what the 2021 Royal Highland Show will look like – or if it will go ahead.
"We cannot shy away from the fact that we are facing a very uncertain future with challenges posed by the global pandemic," said Mr Laidlaw.
He said the cancellation of the 2020 show had wiped £4.5 million from the society's income for this year and a further £2m from events income at the Royal Highland Centre.
"It will be some time before we will see mass gatherings taking place again, so this reduction in income is likely to be sustained well into next year," added Mr Laidlaw.
"This puts the charity under significant financial strain and while we are working on ways to mitigate this, it is a large gap to fill."
He said swift decisions had been made to shore up the society and reduce costs, including putting 65% of staff on the government's furlough scheme.
RHASS chairman Bill Gray said: "We are about to embark on a major fundraising drive, which will hopefully give us the lifeline we need to sustain the charity."
Meanwhile, visitors to next year's Royal Highland Show are likely to see changes to its format and scale if it is permitted to go ahead.
Mr Gray said the society's directors were determined to hold a show in 2021, but this would be dependent on Covid-19 restrictions and whether or not a second wave of the virus occurs.
He admitted it was unlikely the show would be able to host the same number of people as in previous years – the 2019 show attracted a record-breaking audience of more than 192,000 people across four days.
"We don't know what restrictions will be in place next year," said Mr Gray.
"To have nearly 200,000 people on a traditional format for the show is unlikely to be allowed. We are looking at options to offer as much as we can."
Alan Laidlaw said: "We fully expect to be one of the last groups out of lockdown. For the board, the show will change to focus on charitable activities and pure agriculture."