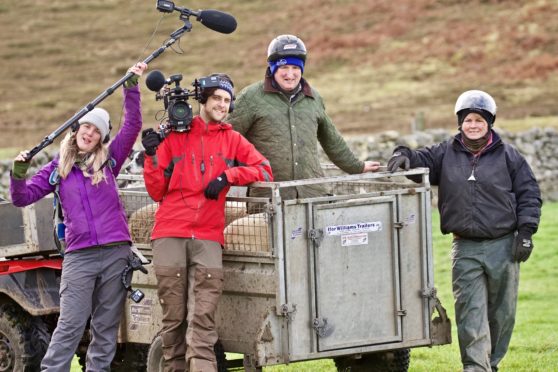 Keeping my big mouth shut is never easy for me, but over the past year I've managed not to tell too many folk that we've been filming with a team from the BBC for series four of This Farming Life.
It wasn't a decision that any of us took lightly but I wanted to take the opportunity to strengthen our relationship with the consumers of the food we produce and share the stories of the rural communities we live in.
A slot on BBC2 at prime time, to a UK-wide audience, was worth me taking the time and effort to engage with the wider public.
I'm not going to lie – I was extremely nervous on Tuesday night as the opening titles rolled, but two Rock Rose gin and tonics helped to settle the gut-churning emotions.
We had to put our trust in the people who filmed with us, but quickly I felt the editors and film teams had been very kind with what they had done.
The opening show had a staggering 1.6 million viewers tune in, a figure that is expected to grow as more folk get to know the new farmers over the course of the 12 programmes.
We had a couple of different teams coming to film but in the main we had a lovely couple, Kate and Stephen, who had also filmed on series two of the programme.
There were tears from me at times with their questions once they worked out what made me tick.
They're both very talented and I feel they've captured how much of ourselves, as farmers, we invest into working the land and rearing animals.
Kate was as hard as nails, driving her quad in some hellish conditions as she tried to capture the perfect shot.
I was so impressed with the city girl, who followed hill gathers for miles, or stood in a pen of freshly-weaned Salers cross cows, who were offering to do the wall of death around the shed – all without a word of complaint.
Due to the Covid restrictions, none of the six farming families featured have met up or had the usual pre-screening of the first episode.
However we had a zoom meeting, and I felt a real connection straight away to all the people involved who have been on the same journey as us.
I wear my heart on my sleeve, and I'm sometimes too quick to offer my opinion, but I do care passionately for our farming industry and that's why I ultimately agreed to take part in the show.
It's all too easy to speak only to others within our agricultural comfort zone, but right now I feel the stakes are too high and we need to do more.
We need to speak up for ourselves and face the challenges ahead rather than wringing our hands in despair over hormone beef or chlorinated chicken imports when it's too late.
Armadale doesn't feature on next week's episode but the audience will be introduced to another two new amazing families doing great work.
I really hope that we all have given a true representation of the diversity, passion and colourful characters that make up our agriculture sector and rural communities.