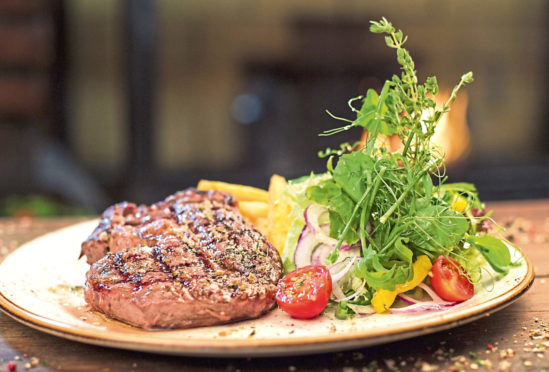 Scottish beef farmers have missed out on having their produce included in the first export of UK beef to the United States in 20 years.
When American chefs, butchers, importers, distributors, wholesalers and members of the press sit down to samples of sirloin and topside mini beef joints in New York, New Jersey and Pennsylvania next week, Scotch Beef will not be on the menu as processors here are still waiting for accreditation to export to the US.
Instead, the shipment of beef has been flown from a processing plant in Northern Ireland ahead of an export deal which the industry hopes could be worth an estimated £66 million over the next five years.
Quality Meat Scotland said the situation had arisen because a Scottish processor is still in the final stages of accreditation and the process had been put on hold because of Covid-19.
A Scottish Government spokesman added: "AK Stoddart are in the process of going forward for approval and will be looking for official listing in 2021 and hoping to export to USA next year.
"AK Stoddart is a forward-looking company who have recently been one of the first to export both to Japan and Canada."
The AHDB has organised the shipment, which the levy body's senior export manager, Susana Morris, described as "a very exciting phase in our ambitions to start exporting beef to the US".
She added: "This new market access is the result of years of working collaboratively with UK and devolved governments as well as industry bodies to get this deal over the line.
"This AHDB event will hopefully be a launchpad for our beef exports and we look forward to seeing more shipments heading to the US in the near future."
Meanwhile, as questions over trading standards dominate the farming agenda, US Agriculture Secretary Sonny Perdue has reiterated his warning against creating long-term "restrictive policies" for agricultural production.
Mr Perdue told a press briefing the US is keen to work with other countries, but he insisted it would not abide by any methods of production based on "perception" and nor would it agree to policies that restricted methods of production.
He said there was a need to feed a growing population and develop sustainable farming techniques and warned of policies that "stifle innovation".
He said: "I've asked our economists with USDA to project if the world – all production of societies in the world – abided by the Farm to Fork (EU proposed policy), what would that mean?
"Their preliminary discussions – and we will be publishing this later – indicate a potential doubling of food prices around the world, creating millions of more people in food insecurity."
Mr Perdue went on to say that if the EU implements its proposed Farm to Fork strategy, the impact on transatlantic trade could be "extremely problematic".
"Every sovereign nation has the right to determine their rules and regulations regarding their food and agricultural production.
"But when you try to impose those standards on international trade based on subjective matters rather than the definitive health and safety matters, then I think it becomes extremely problematic."