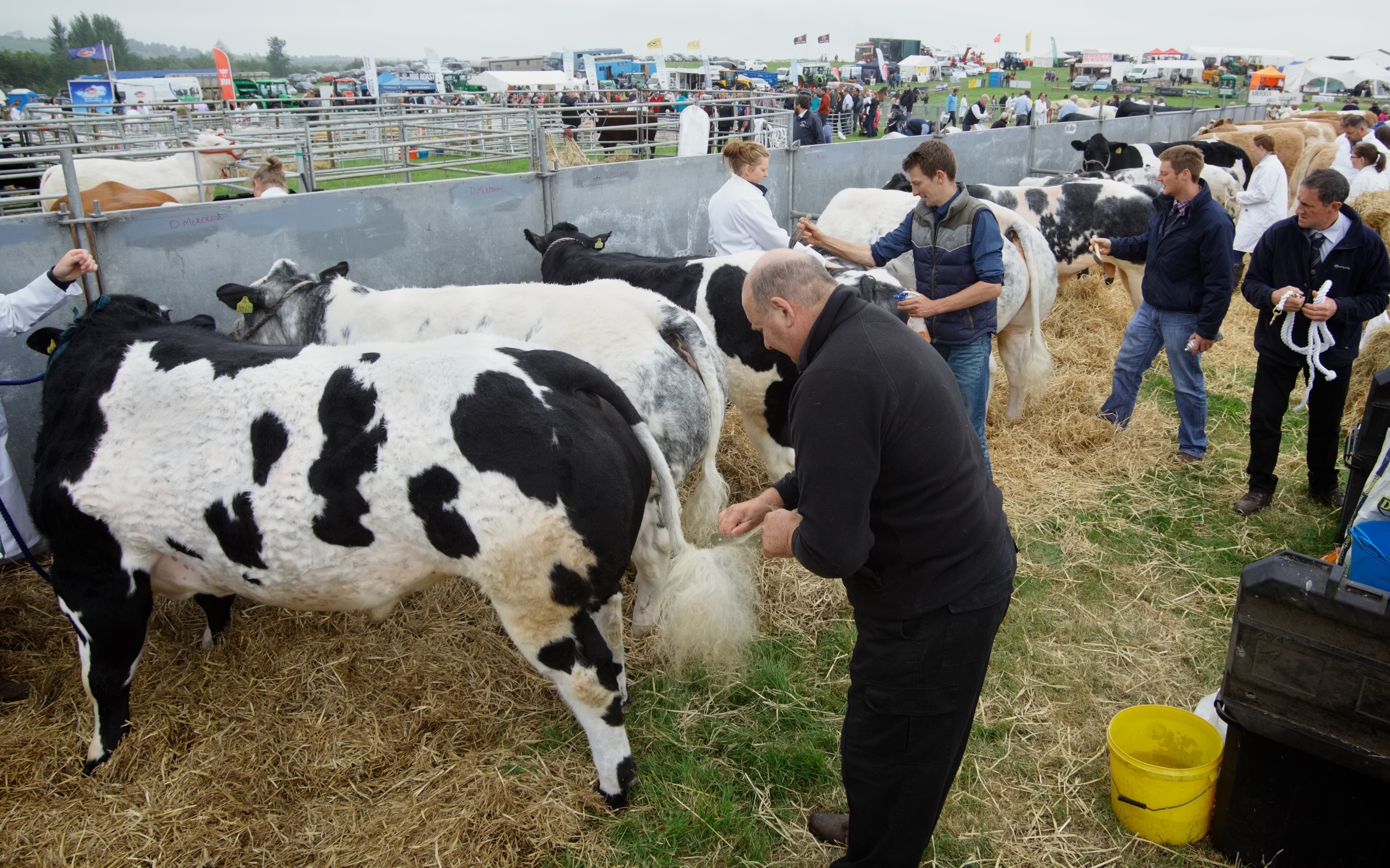 Fife farmers celebrated their industry in sunshine on Saturday when Hilton of Beath opened its field gates to welcome livestock, crowds and vehicles from across central Scotland.
The Thomson family took an early cut of silage on 55 of the farm's 1000 green acres to clear the decks for Central and West Fife Show. And after a 10-day buildup, it took just a few hours for the committee of local farmers to return the land to working farm status.
Two competitors on opposite ends of the age spectrum demonstrated the farming industry's enduring passion for livestock competition when a five-year-old boy proudly won his first dairy breed championship and a grand old master of the heavy horse world enjoyed yet another moment in a long career of show ring glory.
Crieff Clydesdale breeder, Thomas Clark, a man in his nineties, celebrated winning the show's coveted champion of champions title alongside his sons and grandson.
The three generations proudly watched the family's tall yearling filly, Muirton Melba win the breed championship then reign supreme against stiff competition from the cattle, sheep, goat and dairy champions.
Meanwhile five-year-old Ruaridh Lawson couldn't hide his delight at winning the small "any other dairy breed" championship with his five-month-old British Friesian calf, Priscilla.
The cattle interbreed champion was the commercial section winner, Tooshie Noir from Wilson Peters. This Limousin cross heifer by Kype Elliot was also champion at Fife Show two weeks ago.
In reserve interbreed place was the seven-year-old Limousin cow from event host, Hilton of Beath farmer John Thomson. Beith Fantastic is a foundation female in his 20-cow pedigree herd.
Over in the sheep lines, a Suffolk gimmer from the Black family at Newton of Collessie, Ladybank reigned supreme. She is by Lymeston Lieutenant and out of a home-bred ewe and was on her first show outing of the season.
Reserve sheep interbreed was the Suffolk cross ewe from John Messenger from Ayton Farm, Aberargie. She is home-bred and was judged first prize ewe with lambs at foot at Fife Show.
Goat judge, Agnes Aitken praised the high standard of immaculately turned-out nannies, goatlings and kids and placed as her champion the two-year-old milker, Ladeside Ladyrue from Beth Fairley and Rebekah Fleming. Ladyrue is a cross-bred Anglo Nubian and British Toggenburg with "a bit of British Alpine too" and has won dedicated goat shows already this year, at Ayr and Forfar.
Champions
Aberdeen Angus – Donald Rankin, Skye c/o R and C Rettie, 3 Aberdona Mains, Forestmill, Alloa with three-year-old heifer, Retties Lady Ruth by Rawburn Elysium.
Reserve – Bob Lane c/o R and C Rettie, Alloa with 15-month-old bull, Penguin Mr Eldorado by Cardona Potter.
Other native pure-breds – Ian and Sheena Graham, Balgay, Perth with 15-month-old Shorthorn heifer, Balgay Ariel by Glenisla Zetor.
Reserve – W, P and K Wason, Redwells Farm, Kinglassie, Lochgelly with three-year-old Hereford heifer, Baldinnie Cathy 40th by Baldinnie 1 Viscount.
Highland – Donald MacNaughton, 72 Centre Street, Kelty with two-year-old heifer, Hayley 1st of Rannoch by Connor 2nd of Lagg and out of Hayley 4th of Earn.
Reserve – Donald MacNaughton with nine-year-old cow, Skye 2nd of Rannoch by Lochmill Rannoch. Champion at Glasgow in 2009
Continental – R and C Rettie, Forestmill, Alloa with nine-month-old Charolais bull calf, Retties Lorenzo by Aberdona Ignite.
Reserve – George Russell, Headswood, Denny with 11 –month-old heifer, Lesliepark Lara by Mandela Dillon.
Blonde d'Aquitaine – Lyle Laird and Sons, Lochhead Farm, Coaltown of Weymss with five-year-old cow, Whitefield Freya by Whistly Dollar and out of Whitefield Suzy. She has 24 championships to her name and is entered for RHS.
Reserve – Lyle Laird and Sons with two-year-old heifer, Lochhead Jenny by Whitefield Flashman.
Limousin – John Thomson, Hilton of Beath, Kelty with seven-year-old cow, Beith Fantastic by Goldies Crackerjack and out of Normandy Varaicha. Champion at West Fife in 2014.
Reserve – Malcolm and Marina Reid, Grassmainstone Farm, Alloa with two-year-old bull, Reids Jethro by Golddust.
British Blue – Ian McGarva, Nether Abington Farm, Abington with four-year-old cow, Abington Harriet by Aprilton Arnie. Champion at West Fife Show as a maiden heifer and entered for RHS.
Reserve – KJ and ER Hill, Crawfordwalls Farm, Carluke with 17-month-old bull, Kenray Jenson by Grommit Hof Ter Zilverburg. Entered for RHS.
Simmental – James Wightman, Cornhill Farm, Maddiston, Falkirk with yearling heifer, Team Casey by Auchorachan Winger. Champion at Drymen Show and on only her second outing. Entered for RHS
Reserve – Colin Inglis, Greencap Cottage, Dalachy, Aberdour with 15-month-old bull, Greencap Guvnor by Kilbride Farm Chieftain. Champion at Fife Show.
Any other beef breed – Wilson Peters, Cuilt Farmhouse, Monzie, Gilmerton, Crieff with 14-month-old Limousin cross heifer, Tooshie Noir by Kype Elliot. Champion at Fife Show.
Reserve – Wilson Peters with 13-month-old Charolais cross heifer, Honey Dime by Carwood Elgin.
Holstein – Jim and Isobel Wilson, Carskerdo Farm, Cupar with four-year-old Holstein Friesian, Drakkar Helio. Currently milking 60 litres/day. Champion at Fife Show.
Reserve – Jim Barr, Easter Bucklyvie, Crossgates with second calver, Ernespie Loader Mattia by Cogent Loader. Calved in April and currently milking 60 litres/day
Any other dairy breed – Basil Lawson, Windsole, Auchterarder with five-month-old British Friesian calf, Lismulligan Priscilla led by Ruaridh Lawson (5).
Bluefaced Leicester – Alan McIntyre, Glenfarg with ewe by Son of Magners.
Reserve – Alan McIntyre with a gimmer by a Burnbank sire.
Suffolk – R H Black, Newton of Collessie, Ladybank with a gimmer out of a home-bred ewe by Lymeston Lieutenant.
Reserve – R H Black with ram lamb by Solwaybank Titan and out of a ewe by Ardlea Champion.
Texel – Robin Orr, Halbeath Farm, Halbeath, Dunfermline with a gimmer by Hartside Volt.
Reserve – David McKerrow, Nochnary Farm, Freuchie with a gimmer by Stainton Vigilante. Reserve at Fife Show this year.
Zwartbles – Cameron and Chloe Cormack, Stickle Heaton Farm, Cornhill-on-Tweed with gimmer, Mischief Connie by Beechay Best Seller and out of Mischief Amy.
Reserve – Peter Walton, 4 Fans Farm Cottage, Earlston with ewe lamb out of a home-bred ewe by Eildon Hall Annual Man.
Shetland – Katae Sharp, Cedar Lodge, Ewingston Farm, Humbie with a white shearling ram by Ewington Morrison.
Reserve – Mr and Mrs A Arbuckle and Ms S Meikle, c/o 4 Dunn Place, Winchburgh with a shearling ram, Brae Palma by Howburn Jack and out of a home-bred ewe. Unbeaten as a lamb and reserve champion coloured at Fife Show.
Cross or half-bred – John Messenger, Ayton Farm, Aberargie, Abernethy with a Suffolk cross ewe by a home-bred Suffolk ram. First prize ewe with lambs at foot at Fife Show.
Reserve – John Messenger with Suffolk cross half-bred gimmer on her first outing. By a home-bred tup and out of a home-bred ewe.
Any other sheep breed – John Lyle, Cottage 2,Nether Pratis Farm, Lethen with a Blue Texel gimmer.
Reserve – Ian and Mhairi Davidson, Balnacree Farm, West Boxton Road, Avonbridge, Falkirk with a March-born North Country Cheviot ewe lamb by Balnacladen Sarasan.
Lambs – Three lambs by a continental sire and single prime lamb – John Messenger.
Goats – Fairley and Fleming, Avondale Cottage, Avonbridge, Falkirk with atwo y-year-old milker, Ladeside Ladyrue, a cross Anglonumian and British Toggenburg by Ivybeck Herlequin. Won at Ayr and Forfar Shows this year.
Reserve – Fairley and Fleming with a three-year-old British milker, Ladeside Ladyria by Guilden Glenavon. Scottish goat of the year in 2015.
Clydesdale – Thomas Clark and Son, Muirton Stud, Abbey Farm, Madderty, Crieff with a home-bred yearling filly, Muirton Melba by Muirton Sabre and out of Muirton Megan.
Reserve – Scott Greenhill, Leuchars Lodge, Leuchars with six-year-old mare, Macfin Ruby by Doura High Spirit.
Highland – Jill Vasey, Currie with Highland Piper of Sunnyneuk.
Shetland – L Wilson, Cassindilly Farm, Ceres with mare, Cassindilly Roxy.
Reserve – Donna Lochtie, Tillycoultrie with mare, Hawkdale Dixie.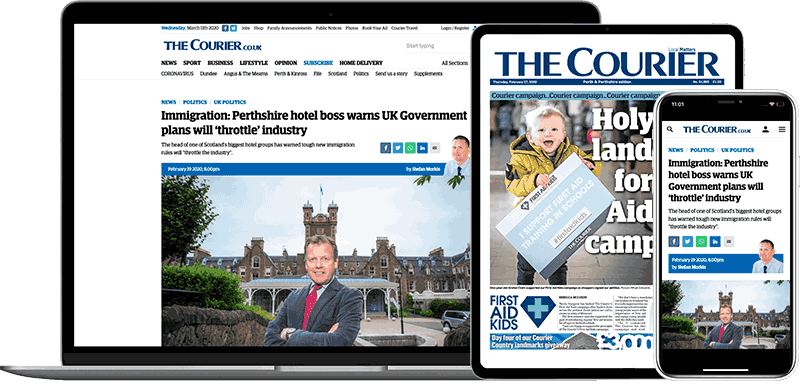 Help support quality local journalism … become a digital subscriber to The Courier
For as little as £5.99 a month you can access all of our content, including Premium articles.
Subscribe