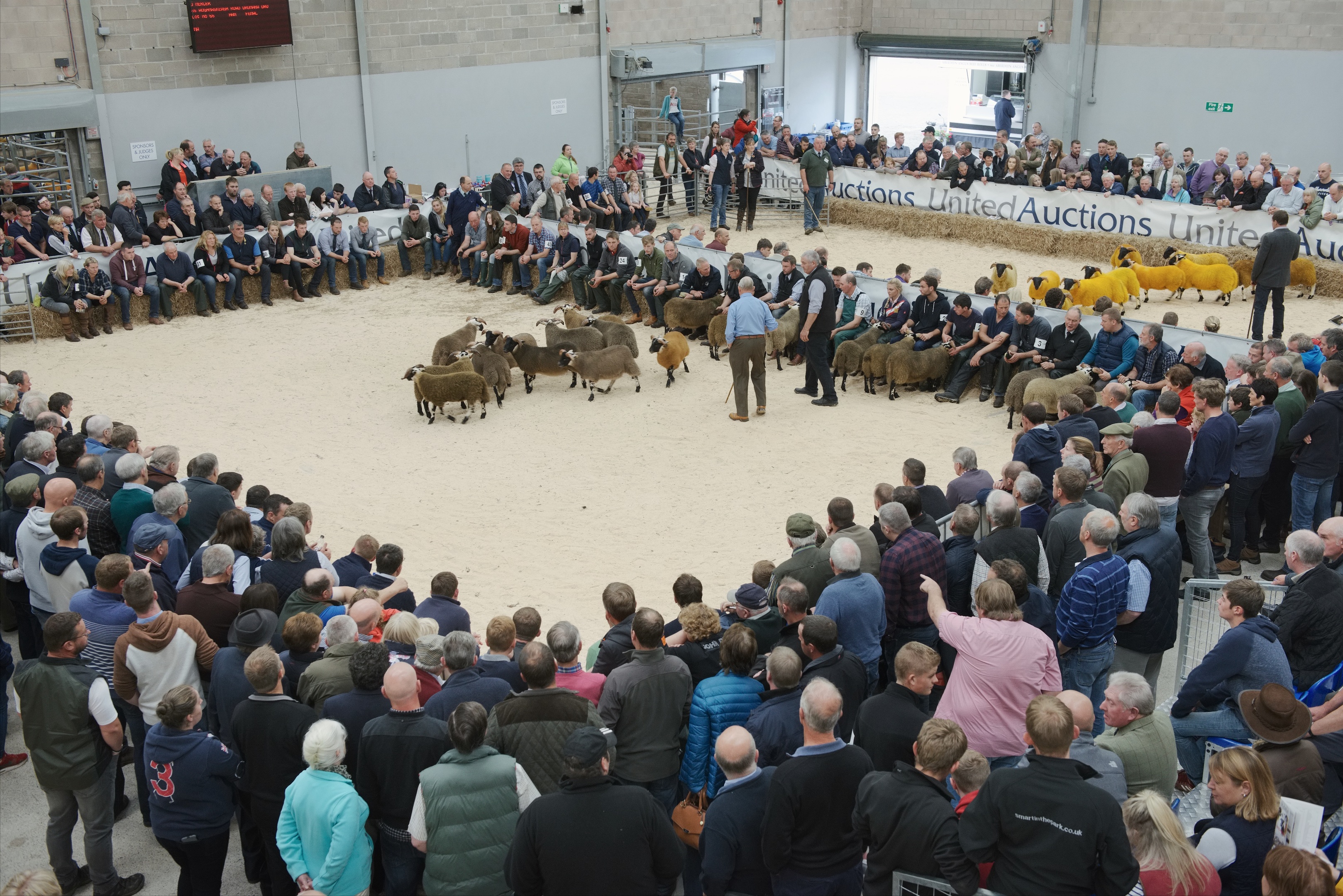 A record entry of 432 Blackface sheep were turned out  for the breed's long-anticipated national show at Stirling Agricultural Centre.
The event, which takes place every five years,  produces breed champions in the individual south-type, north-type and north of England sections.
The south-type classes attracted 264 entries and were led  by a one-crop ewe from the breed's honorary president, Archie MacGregor, his son John and shepherd David Kinloch from Allanfauld, Kilsyth.
The MacGregors winner was a home-bred ewe by the privately-bought Loughash tup, McIlroy, while her dam is by the £32,000 Allanfauld Rocket.
Describing her as a "tremendous ewe, with great character", judge Allan Wight Snr, Midlock, Crawford, said there wasn't much to choose between the champion and reserve as both were outstanding ewes.
His choice of reserve was the second-placed ewe from the Campbell family at Glenrath, Peebles. Brought out by shepherds Steven Renwick and Donald McDermid, this three-crop  is by £90,000 Dalchirla, out of a ewe by £65,000 Auldhouseburn. She stood champion of champions at Peebles Show last year.
In the male section, champion went to David Morrison, Dalwyne, Barr, Ayrshire, with the £52,000 Crossflatt tup bought jointly with the Dalblair flock last year. He is by £160,000 Dalchirla, out of a ewe by a £26,000 Crossflatt.
Reserve male was a tup lamb from Hugh and Alan Blackwood, Auldhouseburn, Muirkirk. A son of an £85,000 Elmscleugh sire, he is out of a ewe by Auldhouseburn Bolt.
Supreme champion of the north-type Blackfaces was a two-shear tup from Tom, Mairi and Robert Paterson, who run 320 North-type ewes and 1000 South-type, at Craigneich and Dunruchan, Muthill, Crieff
Bought at Stirling last year for £10,000 from Auchnacloich, he is sired by an Achdregnie tup, out of a ewe by a £900 Glendamph.
Reserve overall Northie was the female champion, a ewe lamb from David Baillie, Calla, Carnwath, brought out by shepherd Jamie McInnes. Sired by a £1000 McAleer tup, she is out of a ewe by a £6500 Woolfords.
Reserve female champion was Stephen Duncan's two-crop ewe, from Achdregnie, Glenlivet. Sired by a £3000 Calla tup, she is out of a ewe by an £800 Conway sire.
Reserve male went to a shearling from the Smith family's Haughton flock at Glenkindie. This home-bred tup is by an £8500 ram bought from Mark Smyth two years ago, while the dam's sire cost £6000 from Tom Adams.
Over in the North of England section, judge  Robert Raine  chose a ewe lamb from Angus and Jamie Murray, Sewingshields, Haydon Bridge, Hexham, as overall champion. She is by a £9000 Wanwood Hill sire, bought at Hexham two years ago.
Class results:
South-type
Aged ram – Pole; Shearling ram –  Dalwyne; Ram lamb, ewe lamb – Auldhouseburn; Ewe, best bred by exhibitor –  Allanfauld; Gimmer –  Nunnerie;
North-type
Aged ram –  Craigneich; Shearling ram, ram lamb  – Haughton; Ewe – Achdregnie; Gimmer, ewe lamb, best bred by exhibitor  –  Calla;
nnicolson@thecourier.co.uk