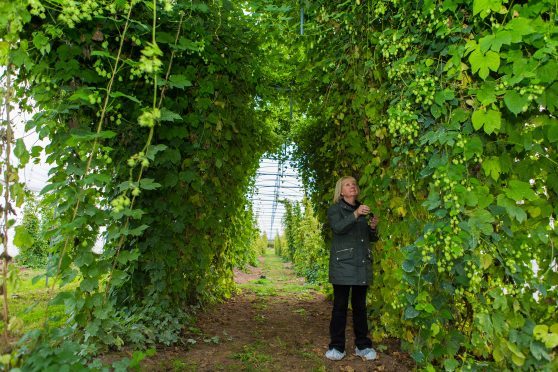 A small band of Scottish farmers are poised to jump on the craft brewing bandwagon by growing hops to meet growing local demand.
The producers are monitoring trials currently taking place at Invergowrie's James Hutton Institute (JHI) where research on a crop more commonly grown in Kent and Hertfordshire is about to enter its fourth year.
And with just days to go until this year's trial is harvested in high tunnels on the outskirts of Dundee, crop researcher Dr Rex Brennan believes there is a "clear opportunity" for Scottish agriculture.
"There's definitely potential for someone growing this crop if they can harvest it successfully and link to a craft brewer," he said.
"People are interested in local production and asking questions about where their food comes from. It's a big driver. We have been engaging with potential growers and have some interested in trying the crop."
Dr Brennan said the Institute had been encouraged by the positive response from local craft brewers who have produced beer from previous years trials.
"We've also spoken to other brewers who are potentially interested," he said.
There's mileage with the craft brewing sector so the next stage is to encourage growers to get on and try the crop on a trial basis."
He added that demand from brewers for next week's harvest is already high.
"There are various takers, some wanting them as fresh green hops which will be used quickly after harvest, and the rest will be dried to retail the quality."
Hops were grown in six Scottish counties in the nineteenth century but production died out and the crop is only seen in occasionally walled gardens or sheltered situations. However the explosion in the craft beer market has revived interest and production is expanding from the crop's southern heartlands.
This year's trials are focusing on quality comparisons with the varieties grown in England which include Cascade, First Gold and Pioneer. Assessments on other varieties will begin in 2018.
However Dr Brennan emphasised that challenges still have to be overcome before hops can be widely grown in Scotland.
"Aphids have been a serious problem this year and there have been issues with pests and diseases since the project started. It's a big learning curve and our experience will benefit those who go on to do it commercially," he said.
However the biggest problem of all could be harvesting.
He said: "By hand it is very costly and laborious. Harvesters are available and in the big commercial operations the hops are cut down and a harvesting machine is static in the building, but you need to be growing a lot of hops to justify a machine like that. It is certainly an issue."
nnicolson@thecourier.co.uk