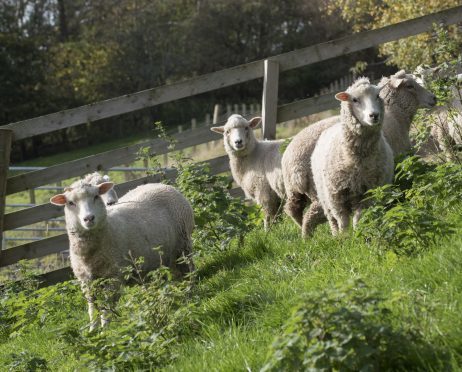 A Perthshire breeder of scarce Bowmont sheep has found international success with her latest batch of specialist fine fleeces.
Diana Rettie, who has a small flock of 24 sheep near Inchture, is one of a nucleus of producers who keeps the animals and her wool is now in demand by top German tailor, Brita Hirsch.
Mrs Rettie's fleeces have been snapped up by Ms Hirsch and woven to produce a fabric she has named the "great Northern cloth".
"I'm thrilled. It's a dream come true as I always wondered why it wasn't possible to produce better cloth – and now this wonderful fabric has been produced from my sheep," said Mrs Rettie.
"Brita got a batch of my finest 141 grade of wool and has a contract to get it for the next three years."
The breed, named after the Bowmont Valley in the Borders, was designed at Sourhope station in the Cheviots by the Macaulay Land Use Research Institute in the 1990s. It involved mating Shetland ewes with fine Saxon-Merino rams and the intention was to create a hardy breed that could live on hill and upland farms and produce specialist wool to boost incomes on high, marginal sheep units.
Mrs Rettie comes from a family of Borders tweed makers and is passionate about wool. She has won awards at major agricultural shows in the past, but this is her greatest success to date.
"The aim of the Bowmont was to produce easy-care, high quality fleeces and I started breeding them in 1993. The Macaulay ended the project in 2007 but I've been proud to carry it on," she said.
"All the wool is classed as the finest by the British Wool Marketing Board and while many fleeces are worth just £2/kg, we're getting more than £8/kg."
Farmers failed to adopt the Bowmonts on a large scale and just a handful of breeders have continued with the breed. It has been estimated that just a few hundred animals exist.
nnicolson@thecourier.co.uk